Serbia to sign free trade agreement: Brnabic and Medvedev attend working lunch
Brnabic was sitting next to Medvedev at the table and will later have a bilateral meeting with him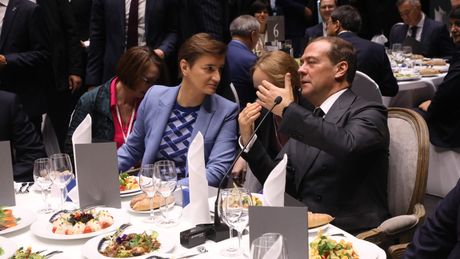 Foto: Tanjug/Vlada RS/Slobodan Miljevic
Serbian Prime Minister Ana Brnabic today attended a working lunch organized by Russian Prime Minister Dmitry Medvedev in Skolkovo, some 20 kilometers from the Kremlin, for the heads of delegations attending a session of the Eurasian Intergovernmental Council.
The Serbian prime minister will meet with Russian Prime Minister Dmitry Medvedev in Moscow today, where the Free Trade Agreement between Serbia and the Eurasian Economic Union will be signed.
Brnabic was sitting next to Medvedev at the table and will later have a bilateral meeting with him.
Skolkovo is located in the Moscow region and is the place where an "innovation city" is being developed on about 400 hectares. The plan is provide homes for about 50,000 people there. The Skolkovo Foundation consists of four entities, the Skolkovo Innovation Center with more than 1,000 start-ups, which Brnabic will visit after her lunch with Medvedev, the Skolkovo Technopark, the Skolkovo University of Technology and the Skolkovo City.
During the visit of Russian President Vladimir Putin to Belgrade, one of the agreements signed was with the Skolkovo University, which is one of Russia's most important centers for development of young engineers and technology start-ups. Previously. Serbia discussed with Skolkovo management the possibility of Serbian innovative companies being present in their innovation center and participating in competitions and programs funded by Skolkovo and other Russian investment funds.
Skolkovo even gives visas under accelerated procedure to engineers from all over the world who intend to work or start their own start-up companies there.
(Telegraf.rs)