Milan has been on Mt. Stara since day one of fire, recording everything: It hurts to watch it burn
Milan Radovanovic from Pirot, as an amateur radio operator and nature lover, recorded scenes every day of the fire on Stara Mountain, which has been burning since Sunday
Heat is felt from the fire, low vegetation and leaves were burning. It hurts... something in you hurts as you watch the mountain burn. This is what Milan Radovanovic, an amateur radio operator and civil protection member of the Scientific and Professional Society for Risk and Emergency Management, who has been at the scene every day since the fire started on Stara Mountain, tells Telegraf.rs.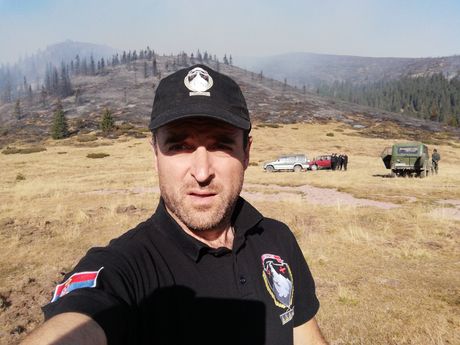 Milan was born in Pirot, and goes to the heart of the Stara Mountain fire every day to establish communication with citizens as an amateur radio operator.
"I have been going to Stara Mountain since Sunday, that is, the day when my colleagues on the Bulgarian side informed me that a fire had started. With Sreten Savov, chief of the emergency staff from Pirot, we are constantly on the site," Milan tells Telegraf.rs.
He explains that it is his job and that of his colleagues to, as amateur radio operators, establish communication with citizens, that is, with volunteers who are there together with the fire department.
"We pass information on whether someone needs something," says Radovanovic.
He goes on to explain what he and his colleagues found during the days of the fire 15 kilometers from Topli Do.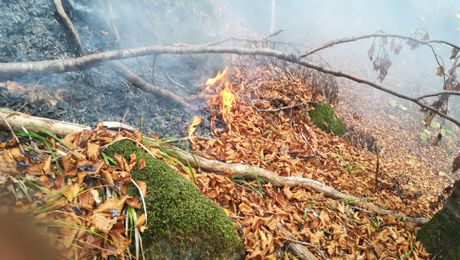 "In the first days we found a strong focal point, the conditions were very unfavorable, the wind was blowing towards us and threatened to extend to Arbinje - a strict national park. Firefighters were able to make something like a cordon from day one and prevent fire from penetrating deep into the forest. Low vegetation, juniper shrubs burned," Radovanovic says.
The interlocutor of the Telegraf.rs portal says that afterwards the wind changed direction, which was favorable for us.
"The wind started to blow towards Bulgaria. Several hectares burned here, but the fire was prevented from engulfing large areas or objects. Given that the villages are about 15 kilometers away, there is no danger to the population," says this Pirot man, who admits that he, as  a nature lover, finds it difficult to witness the scenes he is finding on Stara Mountain. "Fortunately, though, that's nature, it will be renewed. It's also good that it rained last night," he said.
He adds that firefighters from Sabac jumped from stone to stone, extinguishing the fire, saving human lives from the rocks that at one point fell down a steep surface.
Due to the inaccessible and steep terrain, one of his colleagues got injured while extinguishing the fire.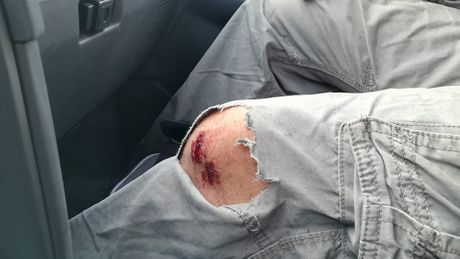 "Rivers have helped a lot, as well as the streams that are up there, the low vegetation, grass, leaves and forest burn up to the rivers, and then the water creates a natural barrier so that the fire cannot spread to another part of the mountain," Radovanovic explains.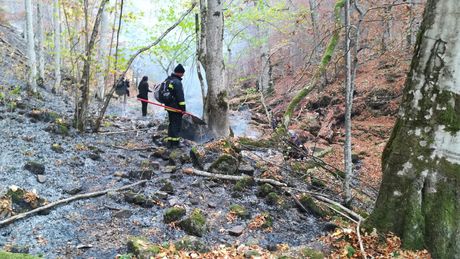 Milan points out that about 140 members of the Gendarmerie and about 40 firefighters are defending Stara Mountain, and that there are dozens of locals in each brigade who coordinate with them.
When we called Radovanovic, he was on his way to Stara Mountain. Shortly afterwards, he informed his Facebook friends that he found frost there.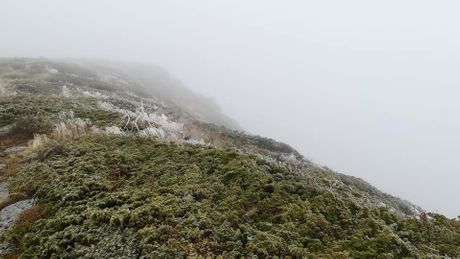 "Rain, snow, fog... Everything is useful to localize the fire on Stara Mountain," Milan wrote.
(D.S.)