Serbia and US share goal of regional prosperity and stability: Brnabic and Godfrey on cooperation
Serbia greatly appreciates the support that the United States provides on its European path, primarily through support in implementing the necessary reforms, said the prime minister of Serbia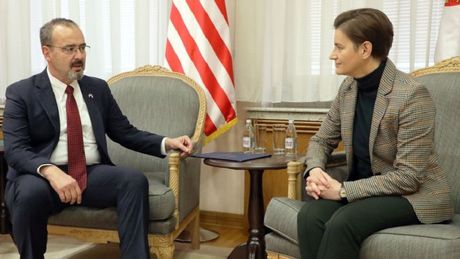 Foto: Vlada Srbije
Prime Minister Ana Brnabic spoke today with the newly-appointed US Ambassador Anthony Godfrey about the two countries' cooperation so far, the potential for its expansion and intensification of political dialogue.
The prime minister expressed her belief that such opportunities exist, primarily in the fields of economy and investment, but also education, science and innovation.
Serbia, according to her, greatly appreciates the support that the United States provides on its European path, primarily through support in implementing the necessary reforms.
Ambassador Godfrey said that the two countries share the same goal - prosperity and stability of the Western Balkans region.
Počastvovan prvim susretom sa @SerbianPM i razgovorom kako da kroz privredni rast i #evrointegracije unapredimo naš zajednički cilj: prosperitet i stabilnost Srbije. Impresioniran sam njenom jasnom vizijom o poslovnim i investicionim mogućnostima koje vode u tom pravcu. pic.twitter.com/32xJ7uNh0n

— Ambassador Anthony Godfrey (@usambserbia) November 1, 2019
In pursuit of this goal, according to the US ambassador, his country intends to support the Belgrade-Pristina dialogue in finding a compromise, mutually acceptable and sustainable solution that would allow stability and progress of the entire region.
The US ambassador praised the progress made in the field of economy and in attracting foreign investment, which many indicators speak to.
Talking about economic progress, Godfrey stressed that Serbia has become a significant tourist destination in recent years, and added that he would personally advocate its promotion in this area.
(Telegraf.rs/Tanjug)