Partizan fans publish emotional obituaries for the gunned down leader of a supporter group
Individuals signed their obituaries using their nicknames, while others identified themselves as supporter groups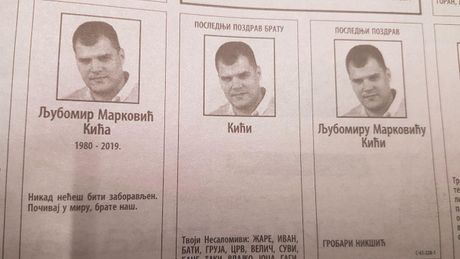 Reprint: Novosti
The murder of Ljubomir "Kica" Markovic, a leader of Partizan football club supporters, shook Serbia, and especially his friends from the stands. Many Grobari (nickname for Partizan supporters) were left in shock after their longtime leader was cruelly liquidated in Grcica Milenka Street after emerging from a game of mini football.
An unknown killer fired six shots at Markovic. The attacker first shot him four times, then approached and shot him twice more in the head, after which Markovic passed away on the spot.
Partizan fans paid tribute to Markovic during the weekend's game against Vojvodina. His Alkatraz group took down the flag and left the stands after another group of supporters, know as Jug ("South") stands began chanting his name.
The Partizanovci faction, led by Milos "Kimi" Radisavljevic, did the same.
Then, a farewell torch fest was set up for Kica in Humska Street, where the club is headquartered. His friends also said goodbye to him in obituaries - six have been published in the daily Vecernje Novosti, one in Politika.
Individuals signed their obituaries using their nicknames, while others identified themselves as supporter groups such as Alo Pozega and Medak 3.
Most of the messages highlighted the lyrics from the victim's favorite song, "You're the pride of my city." Video:

Jug chants to the slain Kica, Alkatraz group takes down the flag and leaves the stands
(Telegraf.rs)