NATO's brain death, Europe on edge of precipice: Macron's alarming warning
Macron stressed that NATO's strength is declining because the US is "turning its back" on allies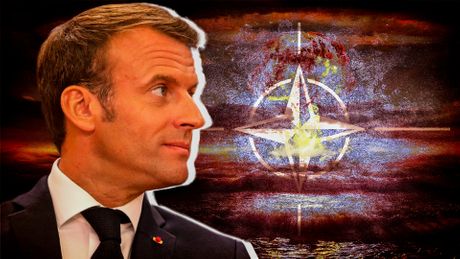 Ilustracija: Nikola Jovanović Foto: Shutterstock/Marko Jovanović
French President Emmanuel Macron said in an interview with The Economist that NATO is experiencing "the brain death" and warned European countries that they could no longer rely on the US to defend its allies.
Macron said NATO's strength was declining because the US was "turning its back" on allies.
What we are currently experiencing is the brain death of NATO. Europe is on the edge of a precipice - Macron said in an interview published on Wednesday, RT reported.
The French president added that Europe must begin to think of itself strategically as a geopolitical power. "Otherwise, Europe will no longer be in control of our destiny," Macron said.
Macron said Washington was "turning its back" as demonstrated by the withdrawal of US troops from northeastern Syria and the abandonment of Kurdish allies there.
Macron added that so far America and Europe had shared interests, and that he worked tirelessly to maintain good relations with President Donald Trump.
But, he believes, America has a president for the first time who "does not share our idea of ​​the European project" and that, even if Trump doesn't win the next election, old allies will have separated anyway.
The French president has been pressuring the European Union and Western countries to revise their role in the world and adapt to new global realities.
In August, he said that "Western hegemony" was over and that it would be a mistake to try to isolate Russia.
In the one-hour long interview with the Economist Macron also said that "Europe must wake up."
Asked whether he believed in the effectiveness of NATO's Article 5 - that in the event of an attack on one NATO member, all other member states would come to its defense - which many analysts consider to be the main means of deterring an attack on NATO members, Macron replied:
"I don't know. But what will Article 5 mean tomorrow?"
(Telegraf.rs)