Emergency situation in Ivanjica: Another heating oil spill, Morava River polluted dangerously
The spill happened during preparations for the heating season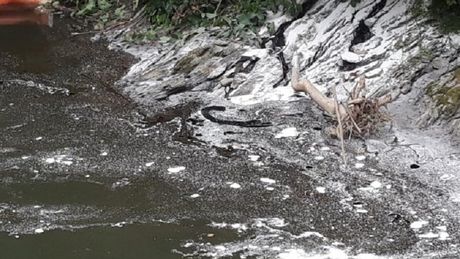 Foto: RINA
In another attempt to prepare the heating season at the Institute for Rehabilitation in Ivanjica, a new heating oil spill happened.
"A meeting of the Municipal Emergency Headquarters was urgently called, in which a decision was made to declare an emergency in a part of the territory of the Ivanjica municipality, more precisely in Svestica, which means that part of the city where the Institute for Rehabilitation and the Environment is located. A quick reaction prevented lager scale pollution," Ivanjica Mayor Zoran Lazovic told RINA.
He emphasized that as far as environmental protection is concerned, all necessary measures have been taken on the orders of competent inspection services, which immediately after the incident visited the area.
Lazovic stressed that after all the checks and controls of  competent state bodies, responsibility would be determined. Telegraf.rs reported yesterday about another oil spill.
The head of the Ivanjica municipality pointed out that the local self-government is in constant communication with the Ministry of Health and the Institute for Public Health, and that a decision has been made in agreement with the Office for Public Investment enable conditions for the installation of a 30-ton mobile tank in order to providing heating to the hospital.
"The plan for the next heating season is to switch the Rehabilitation Institute to another energy source, more precisely to natural gas, which will not be complicated because the connection line is done, and thus such situations will not repeat," Ivanjica Mayor Zoran Lazovic concluded.
Video: No, it's not another planet or a photo edit: These are the sulfur lakes in Ethiopia
(Telegraf.rs/RINA)