Vucic won't be allowed to fly for a month: Plane trips could lead to deterioration of his health
Vucic was hospitalized at the VMA on Saturday for heart problems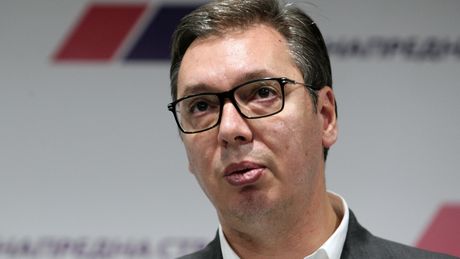 FOTO: TANJUG / SAVA RADOVANOVIC
Serbian President Aleksandar Vucic will not be traveling by plane for the next month due to the health problems he has experienced in the previous days, the daily Blic has learned. Vucic has reportedly already canceled his visit to Iran planned for November 22, and then the one to the United Arab Emirates.
President Vucic had the good will, he planned to go to Tehran despite everything that happened to him at the end of the previous week, but he still had to give up on the trup on the advice of his doctors, said a source of Blic.
Doctors at the Military Medical Academy (VMA) were explicit - flying could cause a deterioration in his health and until it stabilizes, Vucic will have to avoid this mode of transportation.
"He has been prescribed therapy that he has to stick to, and in the coming weeks he must at least halve all his activities. All visits that are already scheduled that must be moved because of the circumstances will only be postponed to another date," the same source revealed.
Otherwise, Vucic will today make his first public appearance since Friday and a press conference to mark the opening of the Belgrade Waterfront Boulevard. He will meet with AzVirt company representatives, the president's press service said. After the meeting, a commercial contract will be signed for the construction of a section of the Ruma-Sabac highway and the Sabac-Loznica expressway.
Vucic was hospitalized at the VMA on Saturday for heart problems, and was released home on Monday morning, returning to work almost immediately. However, as a precaution and on the advice of his doctors, he worked part-time yesterday and also had to take the therapy prescribed to him due to the cardiological problems. Health Minister Dr. Zlatibor Loncar said on Sunday that President Vucic has chronic, minor heart problems, but that his health condition worsened on Friday when he decided to consult VMA doctors. Immediately after he was admitted, it was estimated that the president of Serbia was vitally endangered, said Minister Loncar. The VMA medical teams immediately implemented all necessary measures to remedy such a serious condition, and, according to Minister Loncar, President Vucic responded well to the treatment prescribed to him.
"I take this opportunity to personally thank the VMA medical teams, who once again showed their expertise and professionalism," said Minister Loncar.
Vucic's medical condition was also discussed by his media advisor Suzana Vasiljevic, who said on Sunday evening that the president had spent two days "on machines" at the VMA. Vucic, she said, felt so poorly that this time he sought a medical examination himself.
Vucic announced on Saturday that he would be in "full-time operational mode" starting this week.
"I thank the doctors and staff at the VMA. Thank you to everyone who cared. I'll be in full-time operational mode starting Monday," Vucic said in a written message posted on the Facebook page "Buducnostsrbijeav" ("The Future of Serbia - Aleksandar Vucic") and on Instagram.
Support from Merkel, Macron, Erdogan, Orban, Rama, Zaev...
During the weekend a number of international officials, such as Emmanuel Macron, Angela Merkel, Recep Tayyip Erdogan, Matteo Salvini, Jens Stoltenberg, Viktor Orban, Zoran Zaev, Edi Rama, Marijan Sarec, Borut Pahor, sent messages to the Serbian president wishing him a speedy recovery.
(Telegraf.rs/Blic)