Serbian students arrive home safely: After emergency evacuation from Hong Kong, they reach Belgrade
During the previous night alone, about 40 people were injured in Hong Kong protests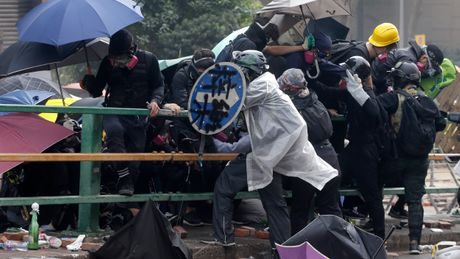 Foto: Tanjug/AP
Shortly after 10 pm last night a plane with four Serbian students from City University of Hong Kong landed at Belgrade's Nikola Tesla Airport. The young scientists returned home as anti-government protests peaked over the weekend.
Sasa Moderc, a professor at the Faculty of Philology in Belgrade and the father of one the ten students who found themselves in China at the time of the demonstration, told TV Prva that all Serbian students had been taken from their campus to a safe hotel on Monday morning, under police escort, and then sent to the airport.
"They didn't see any of what was happening there, because on the advice of their Chinese colleagues they were staying away from the demonstrations," Moderc says, adding that none of the Serbian students have been injured.
About 40 people were injure in Hong Kong during the night.
"The university moved students to a hotel near the airport this weekend when water and electricity were cut off to the campus. A professor, who is our compatriot, gathered them all to be there together, which was a facilitating circumstance for us parents," the mother of one of the students, Dragana Stojanovic, said earlier.
Our embassy in Hong Kong paid for the students' airfares.
Video: Policeman firing live bullets at Hong Kong demonstrator
(Telegraf.rs/Vecernje Novosti/Prva TV)