"Will my child be tied up when I die": Moving words of mother of girl with developmental disability
Citizens gathered to protest and demand resignations of those responsible in the case. Protesters shouted, "It's not the fault of Pazaric, it's the state and the government," as well as, "Thieves," and "Killers, come out"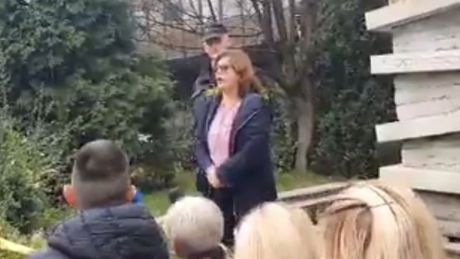 Printskrin: Facebook/Dnevni avaz
Hundreds of citizens gathered today in front of the Federation of Bosnia-Herzegovina Government building in Sarajevo, seeking an urgent response from the authorities regarding with the case mistreatment of children with developmental disablilities in the Pazaric Institute. It involves children being tied to radiators and furniture.
Among those who protested today was one mother of a disabled child who gave an emotional speech.
Speaking on the verge of tears, she said that children were the most important thing to her.
"What will happen to my child when I'm gone? Is Pazaric her future? Thanks to those who voted against, I'm not interested in parties, I am only interested in children with disabilities," she said.
She added that her child is now an athlete, winning medals, swimming, skiing...
Another mother pointed out that she had been fighting with the system for 17 years and that the state had given her nothing.
"The state gave me nothing. The system is not functioning. We have struggled for years to get a day care center but they won't give it to us. And why? To leave more money for them. Every state has a day care center, every city has a day care center. I read in comments, they ask why the mothers did not react before. How long have we been fighting?," one of the outraged mothers asked other woman, also mothers, who showed up for the protest.
She added that for 17 years she hasn't had access to neither a physical therapist nor a speech therapist to work with her child. She added that she enrolled the boy to attend school, but there is nobody there to work with him, no professionals.
"Politicians employ their own, the system doesn't work. They tell me, 'why are you fight, if Allah gave him like this to you'," said the angry mother, after which those gathered began to whistle and boo.
"Everyone knows, the kids (in Pazaric) were starving. They need to be protected. We saw our own children in those kids. If I was gone, my child would be down there," one of the mothers said in tears.
"Killers, come out"
Citizens who gathered in protest are demanding resignations of those responsible for the case.
One of the citizens shouted: "Our fathers did not die for the state so that you can be tying up our children! Killers, come out!"
They urged federal government employees to come out and face the citizens.
Amela Luckin is one of the citizens protesting outside the Federation of Bosnia-Herzegovina Government building today. In a statement to journalists, she wondered why Sabina Cudic - the member of parliament who first broke the news about the Pazaric Institute mistreatment - had not reacted earlier if she knew about the photographs from this institution.
"Why was she silent, why didn't she ask the public for help? The tying up of children in Pazaric is not humane. We understand that there are children who can hurt themselves, but there are medical beds for that, that can be purchased. A child strapped to a radiator can hit their head and cause life-threatening injuries," Luckin said.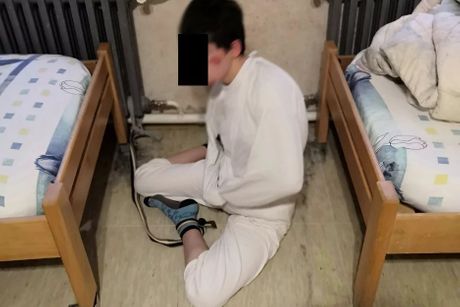 The public in Bosnia and around the world learned yesterday about the inhumane treatment of wards at the institute, after Sabina Cudic, a representative of the Our Party (Nasa Stranka) in the Federation of Bosnia and Herzegovina (FBiH) parliament, shared with the press the photographs documenting earlier allegations about inappropriate behavior of the employees at this institution.
Video:

Neighbors show what wards in the Home for Persons with Developmental Disabilities do
(Telegraf.rs/Avaz.ba)