Djokovic demolishes Frenchman, bringing Serbia the decisive point for the quarterfinals!
A convincing triumph of our tennis players and a secure placement in the quarterfinals from the top spot of from Group A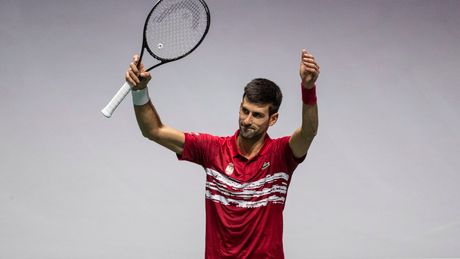 Foto: AP/tanjug
Serbia has made it to the quarterfinals of the Davis Cup! Novak Djokovic defeated Frenchman Benoit Paire 2-0 (6-3, 6-3) thus winning another point for Serbia against the France - after Krajinovic defeated Jo-Wilfried Tsonga.
In the quarterfinals of the Davis Cup, Serbia will play against the best runner-up team, or the second best runner-up team, which will be known only later, when the other matches have been completed.
Australia and Canada are currently known to have qualified for the second quarter-finals of Group C (Germany, Argentina or Chile) and Group E (United Kingdom, Kazakhstan, Netherlands).
Spain, as the best out of Group B, will also, like Serbia, play against the best runner-up or second best runner-up teams from all groups.
Today's match, meanwhile, took only 69 minutes. Novak won the first set 6-3, maintaining his serve in the first game, after facing two break points. He did, however, play his best during the toughest moments, preventing the Frenchman from gaining momentum.
As the match continued, the players were sure of their their own serves all the way to the 4-3 for Novak, when our tennis player made a break to decide the match, as he secured it in the next game.
The second set started similarly, this time Paire was having trouble winning his serve, but Novak had no break chance and the Frenchman took the lead.
But it didn't start in a similar fashion - this time, because Novak never had any break opportunirties, and the Frenchman soon took advanntage of a break in the third set, taking another chance.
Paire then began to play nervously, while Djokovic kept his composure, routinely winning his games, and triumphing.
"@filipkrajinovic gave me wings"

Quarter-final feelings for @DjokerNole and Serbia#DavisCupMadridFinals #byRakuten pic.twitter.com/nF0WuwAaKZ

— Davis Cup by Rakuten Madrid Finals (@DavisCupFinals) November 21, 2019
(Telegraf.rs)