This is the official note confirming withdrawal of Kosovo recognition by the Republic of Nauru
The Republic of Nauru is the smallest independent republic in the world, with an area of ​​21.3 square kilometers, but under the influence of Australia, it was among the first to recognize Kosovo as early as in April 2008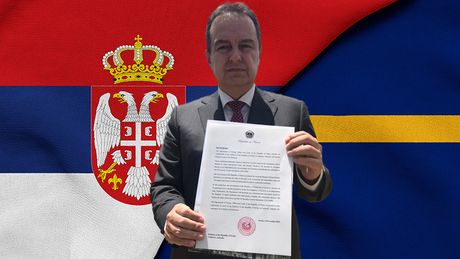 Foto: Shutterstock, MSP
The Republic of Nauru has withdrawn its recognition of independence of Kosovo and Metohija, notifying the Serbian Ministry of Foreign Affairs about it, and bringing the number of countries that have withdrew recognition of the self-proclaimed state of Kosovo to 17.
"The Republic of Nauru is the 17th state to withdraw the recognition of the unilaterally declared independence of so-called Kosovo. Today, the deputy foreign minister of Nauru handed me a copy of the note that they sent to our embassy in Australia," Foreign Minister Ivica Dacic said, as Telegraf has been able to confirm.
The note states that the Republic of Nauru has reconsidered its decision to recognize so-called Kosovo, that it has decided to withdraw the recognition of Kosovo as an independent state and will terminate all diplomatic contacts it has had with Kosovo so far. They concluded that the recognition was premature and contradicted the principles of UN Security Council Resolution 1244. This is of great importance to us, as it represents another, 17th country that has withdrawn its recognition, from the total of 193 United Nations members. "I said last week that the situation when it came to countries that recognize or do not recognize Kosovo was 94 to 94, plus 5 countries for which it cannot be said with certainty what their status is, but mostly these are the countries we count as not having recognized, while Kosovo considers that they have. So, if we now have in mind this note of Nauru, the current situation is - 95 countries do not recognize Kosovo, 93 countries recognize Kosovo and five countries, so to speak, are abstained. We will continue with these activities, in accordance with President Vucic's instructions, with the aim of protecting our state and national interests and protecting our territorial integrity," said First Deputy Prime Minister of Serbia and Foreign Minister Ivica Dacic. The Republic of Nauru is the smallest independent republic in the world, with an area of ​​21.3 square kilometers, but under the influence of Australia, it was among the first to recognize Kosovo as early as in April 2008.
On November 11, Foreign Minister Ivica Dacic announced that Ghana had withdrawn its recognition of Kosovo's independence and showed an official note that arrived at the time.
He then announced that another 3 or 4 countries would make the same decision by the end of the year.
(Telegraf.rs)