3 years ago most horrible part of my life began. That is when my daughter Barbara Vitez disappeared
Her father Endre wrote a post on Facebook and shared his family's Golgotha, saying that he hoped those who are punishing him now would met the same fate
Barbara Vitez disappeared on this day, November 25, 2016, and her parents have been going through daily hell since that day, hoping to find their daughter.
Her father Endre wrote a post on Faceboook and shared his family's Golgotha, saying that he hoped those who are punishing him now would meet the same fate. These are his words:
"Three years ago, on November 25, 2016, the most horrible part of my life began. On this day, my daughter disappeared. Since then, my days go by in darkness, bitterness, and sadness. When people see me smile, they don't know what or how I feel. I'm tormented by tears, my heart aches. Every minute, day, week, month and year go by in pain. I hope that everyone who is punishing me like this now, will get the same from fate! Let them, too, lose all their loved ones! I know these are hard words... BUT!!!! TRUE!!!!," Endre wrote.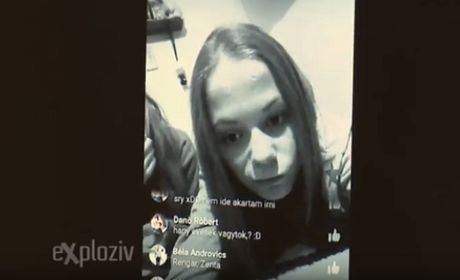 Bela A., a man from Hungary, whom Endre went to find, joined the search independently.
They did not find the man who had sent them photos allegedly showing the girl at home, but Barbara's father told Telegraf that Bela contacted him after all.
"When he heard we were at his place, he immediately called my wife. He was sorry we couldn't meet then," Endre told Telegraf. A veil of mystery surrounds her disappearance
Although the official version - that Barbara Vitez fell off the fence of a bridge and drowned in the Tisa River - is considered the most likely, her parents are sure their daughter is still alive.
At the end of November 2016, she was returning from a birthday party, telling her mother to wait for her. Instead of the 15-year-old, the police knocked at the door. The parents were told the tragic news. And from that moment on, the police never came back to their home, claim Endre Vitez and his wife Melinda.
The story about the disappearance has changed several times, thanks in part to eyewitness accounts of the accident. Sometimes three, sometimes four boys, as the father himself says, confused, have changed their statements, took a lie detector test, which was attended by a translator, and which is why, as a private investigator noted, that test is not considered valid. One of their statements - that Barbara jumped from a ladder into the river - is refuted by her father who points out to the way the bridge is built. "She couldn't have jumped into the water when concrete is under there," he said, while a guest on the Exploziv show.
However, there is not enough evidence to prove either that she is alive or that she is dead. From the moment the girl was reported missing the river was searched for 43 days, and not only was the body not found, but no clothing item from the possible drowning victims had been discovered, either.
Also, a month later, a letter arrived to the parents - anonymous and, according to the Vitez family, also uninvestigated. It stated that Barbara was drugged, raped and killed. Still, the parents found hope that she was "merely" abducted in several photos, recently sent through Facebook.
Video:

What we need to know when someone goes missing
(S. Cenad)