Pirot taxi driver attacked by migrants: They burned my hair, one wanted to kiss me
She stopped the car, and as they were getting out they started cursing her "Serbian mother." When she said she was going to call the police, two started running away while one pushed her away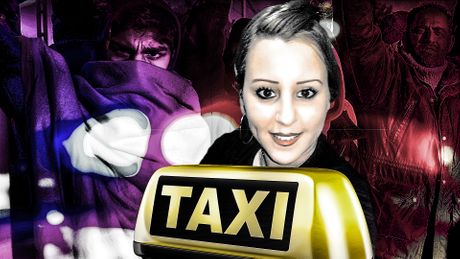 Foto ilustracija: Telegraf/Privatna arhiva/Shutterstock
Taxi driver Natalija Rangelov has been attacked by migrants in Pirot. She was driving them from the city center to the camp where they are accommodated. She told Telegraf all the details of the horrific attack and the harassment that foreign customers subjected her to.
As she told Telegraf, she drove migrants before but never had problems with them. The ride started as usual, when they hailed her at a bus stop and told her where they wanted to go.
"I drove them normally to their camp, they spoke something in their own language, of course I didn't understand. A few hundred meters before their destination they lit cigarettes, and I soon began to smell an odor: they'd set my hair on fire. I don't know if they did it directly with a lighter, or if a cigarette touched it, but that's when I started shouting," Natalija begins her story describing the unpleasant incident. Natalija has been a taxi driver for a year now and is doing this job to support her 4-year-old daughter. As she told our portal, she drove both migrants and men before, but no one ever attacked her, nor did she experience any unpleasant situations.
When she started screaming, terrified, one of the migrants tried an even uglier way to calm her down.
"This guy, who was sitting in the front, and there were three in total, tried to kiss me on the cheek, probably to calm me down. It made me even more angry, and the darkest thoughts were already beginning to come to me, I said to myself: it looks like the worst is going to happen. I didn't even know if they were armed," says this mother and entrepreneur who came under attacked. At that point she stopped the car and as they were getting out, they cursed her "Serbian mother." When she said she was going to call the police, two of them started running away while one pushed her away.
Out of fear and shock, Natalija says she doesn't even remember if they paid their fare. She called her partner and the police and waited for them at that spot, 200 meters from the refugee camp.
When asked if she would be able to recognize them, she answered in the affirmative, adding that she would say they were in their early 20s, and did not seem to be of sound mind. "The police told me after arriving at the scene that there were no grounds for a criminal complaint. What I want, and my colleagues support me it this, is that migrants move away from the location they are now in, in Pirot. My child is walks in the streets of the city, should a tragedy happen?," asks Natalija.
According to her the Refugee Commissariat told her that these young men had been expelled from the camp, so these persons were not under their jurisdiction.
Taxi drivers will today protest in Pirot in support of Natalija Rangelov. All those who gathered after numerous unpleasant situations that culminated with what happened to Natalija say they just want protection and safety in their city.
A statement from the Pirot Police Department said that immediately after receiving a report that taxi drivers in about ten vehicles showed up at the Migrant Reception Center, officers also went to the scene.
"It was reported to the police that three migrants who were driven by a 24-year-old woman taxi driver behaved inappropriately, and that one of them swore and insulted her. The police immediately identified the three migrants and interviewed them as well as the injured party following this report. The Pirot Basic Public Prosecutor's Office has been informed about this event. There are no elements of a criminal offense and a judge of the Misdemeanor Court has declared that there are no elements of a misdemeanor," said the statement from the Pirot Police Department.
Video:

She was walking in a popular resort when men pulled her into a car and raped her for hours
(S. Cenad)