Versace has 10 days to make a statement regarding chairs Leskovac man imported to Serbia
The world-famous designer has a deadline of 10 working days to declare that these are not original goods, and to give consent for their destruction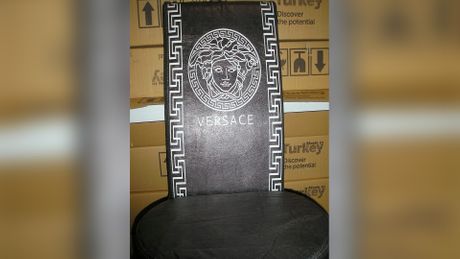 Foto: Uprava carina
Customs officers regularly encounter goods that infringe on intellectual property rights of a trademark, most commonly textiles, footwear, and cosmetics. There have been no prior cases of the originality of furniture being questioned - until December 1, when customs clearance of a set of dining room furniture was challenged for this reason, at the Gradina border crossing.
40 elements of dining room furniture shipped from Turkey were intended for an importer in the town of Leskovac. The furniture has the logo of the Versace brand printed on it. The dining table and chairs weighing about 2.5 tons will be kept until the rights holder or their authorized representative declares whether intellectual property rights of the said brand had been infringed.
According to the procedure, the rights holder has a deadline of 10 working days to declare that these are not original goods and to give consent for their destruction. Rarely, goods suspected of being fake turn out to be originals, in which case the customs procedure continues. Video:

Nato is an addict and then some! His life stops if he doesnt do this at least once a day
(Telegraf.rs)