Red carpet and guard of honor for Serbian president: Vucic arrives in Athens
The Serbian president was greeted at the Athens airport by Greek Deputy Prime Minister Panagiotis Pikrammenos, along with a red carpet and a guard of honor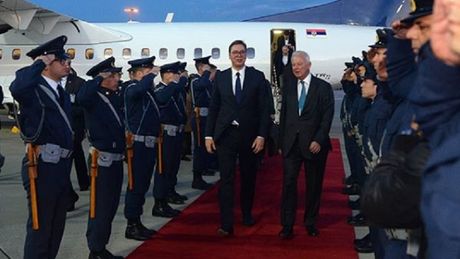 Printscreen: Instagram/buducnostsrbijeav
Serbian President Aleksandar Vucic arrived in Athens on Monday afternoon where he will be on an official visit today and on Wednesday, during which he will meet with Greek President Prokopios Pavlopoulos and Prime Minister Kyriakos Mitsotakis to discuss political and economic topics.
The Serbian president was greeted at the Athens airport by Greek Deputy Prime Minister Panagiotis Pikrammenos, along with a red carpet and a guard of honor.
On Tuesday, the first day of his visit, Vucic will meet with President Prokopios Pavlopoulos when a plenary meeting will be held between the Serbian and Greek delegations.
On the same day, Athens Mayor Kostas Bakoyannis will present Vucic the Gold Medal of Merit for the City of Athens, after which the Serbian president will have a meeting with a number of prominent Greek businessmen.
On the second day of the visit, Wednesday, the president will meet with Greek Prime Minister Kyriakos Mitsotakis, with whom he has had close personal and inter-party links for many years, as Mitsotakis is the leader of New Democracy, a sister party of Vucic's SNS.
Vucic and Mitsotakis will co-chair the third session of the High Council for Cooperation between Serbia and Greece, and then sign a joint declaration establishing a strategic partnership between Serbia and Greece.
Agreements significant for cooperation between the two countries will be signed next.
A meeting between President Vucic and leader of Syriza party Alexis Tsipras is also planned, as well as with Archbishop of Athens and all Greece Ieronymos II.
The delegation led by President Vucic includes Foreign Minister Ivica Dacic, Energy Minister Aleksandar Antic, Defense Minister Aleksandar Vulin, Education Minister Mladen Sarcevic and State Secretary at the Ministry of Economy Dragan Stevanovic.
The main topics in Athens are expected to be bilateral cooperation between the two countries, as well as Serbia's European path, and of course the Kosovo problem.
Greece is a friendly country which supports Serbia's European path and has not recognized Kosovo's unilaterally declared independence.
Serbia attaches exceptional importance to relations with Greece which are based on close friendship, historically confirmed closeness and solidarity between the two nations, President Vucic said in mid-November when he met with Greek Foreign Minister Nikos Dendias.
Serbia highly values Greece's consistent and principled position not to recognize Kosovo's unilaterally declared independence.
(Telegraf.rs/Tanjug)