20,000 homeless people live in Serbia; young musicians surprise some of them on special day
A classical music concert was organized for the homeless in Novi Sad, with the desire for art to be a function of social integration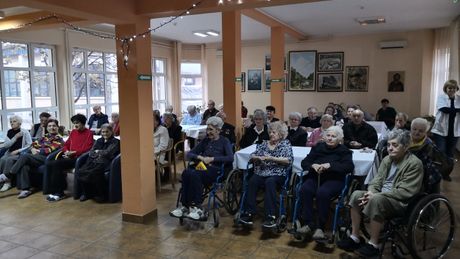 The Danube Sonata (Dunavska Sonata) celebrated Human Rights Day with a concert at the Homeless Shelter and the Futog Nursing Home. For the users of this institution, the festive repertoire of classical music was performed by the Pneuma (Breath) Quartet consisting of flutist Milica Joncic, violinist Jovana Mijin, cellist Nina Hening and pianist Dimitrije Beljanski.
They performed Mozart, Piazzolla and Beethoven pieces.

"Integration into society of those who have lost everything is not just a job for institutions. Art plays a big role in overcoming community differences, understanding and respect. With this concert, the Danube Sonata wanted to indicate that everyone has the right of access to highest culture and dignity," said Milica Trifunov from the Danube Sonata. According to the latest statistics from 2017 there are about 20,000 homeless people living in Serbia, over 600 of them in Novi Sad. 3.3 million homeless people currently live in EU countries, mostly in Germany and France.
The concert at the Homeless Shelter in Futog is part of a series of concerts organized by the Danube Sonata for the fifth consecutive year, sponsored by the City Administration for Culture, with the aim of popularizing classical music and bringing it closer to as wide an audience as possible.
(Telegraf.rs)