"Serbia's place is in EU, there is no alternative": Sarec after joint government session in Novi Sad
After separate meetings between the prime ministers and relevant ministers and a joint session, during which several documents on cooperation between the two countries pertaining to different fields have been signed, the prime ministers addressed the public
A joint session of the governments of Serbia and Slovenia was held in Novi Sad with delegations led by Prime Ministers Ana Brnabic and Marjan Sarec. After separate meetings between the prime ministers and relevant ministers and a joint session, during which several documents on cooperation between the two countries in different fields have been signed, the prime ministers of the two countries addressed the public.
Brnabic thanked Slovenia for its support to Serbia's European integration, as well as for the support it gives to the initiative to establish the so-called Mini Schengen, which she recalled, was an initiative launched by the president of Serbia to ensure a stable and economically prosperous region.
She also thanked Sarec for visiting the Visoki Decani Monastery during his visit to Slovenian troops in KFOR in Kosovo and Metohija, which Serbia sees as a special sign of friendship, and thanked the contingent of Slovenian soldiers guarding the monastery.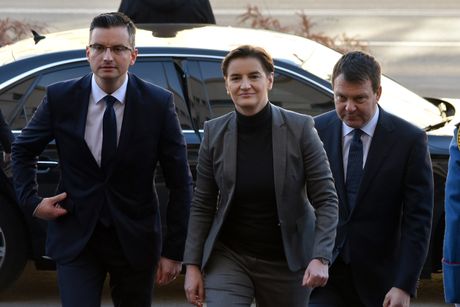 The prime minister mentioned, as the fourth important point, that talks had commenced between Serbia and Slovenia about teaching  the Serbian language in Slovenian elementary schools, for which there is interest.
Brnabic stated that the political and economic relations between Serbia and Slovenia are very close, and that speaking to this point the best is the fact that Serbia has not had as many joint government sessions - five - with any other country, except Hungary.
У Новом Саду одржава се пета заједничка седница @SerbianGov и @govSlovenia . Са премијером @sarecmarjan разговараћемо о даљем унапређењу сарадње наше две земље. pic.twitter.com/XC8EtjAFdW

— Aна Брнабић (@SerbianPM) December 17, 2019
Sarec: Slovenia continues to support Serbia's European path
Slovenia will continue to support Serbia's European path because it believes that Serbia's place is in the EU and that there is no alternative, Slovenian Prime Minister Marjan Sarec said in Novi Sad today. He stressed that Slovenia takes the view that unproductive deadlocks on this path do not contribute to stability.
"In addition to progress made by a candidate country, there must also be a proactive approach by the EU. Slovenia supports EU's enlargement while respecting the rule of law and implementation of reforms. The enlargement process is the most important tool for ensuring economic stability of the region, while slowing or interrupting this process would have serious consequences for the region," he said.
According to him, Slovenia will continue to support and assist the process via its experts in the negotiation process. He recalled that starting in 2015, Slovenia has been providing technical assistance to Serbia in various chapters and has engaged over 44 of its experts.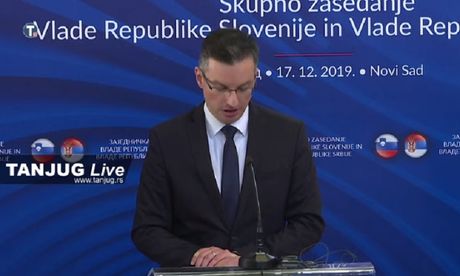 Sarec said the joint sessions of the two governments contribute to a greater cohesion between the two countries and to resolving issues and launching joint projects. He expressed his satisfaction that this session was held in Novi Sad, because, as he said, many families originally from Slovenia live in that town. Serbia, he said, is the only one in the region with which Slovenia has had such encounters.
During the meeting, he shared, assessments and suggestions on where cooperation could be improved have been exchanged, with particular emphasis on the economy. He also pointed to cooperation between Serbian and Slovenian police forces in migration management.
The signing of a memorandum of cooperation in the field of agriculture and rural development will contribute, as he said, to the transfer of knowledge and experience to the Serbian institutions in the process of negotiations with the EU.
He said that together with the Serbian PM he will open a conference in the field of information technology in agriculture, at which the Slovenian model of control systems, which are important for payments from Brussels funds, will be presented.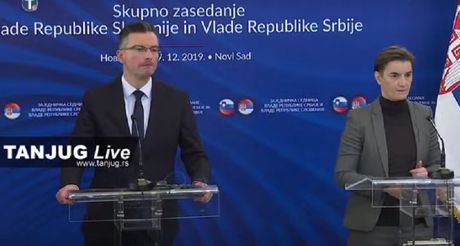 "Slovenia wants to be an active partner on the European path of Serbia, by transferring knowledge and examples of good practices, and our goal in agriculture is for young people to stay in the country and for Serbia to implement European agricultural policy as soon as possible," he explained.
The conference "Digitization in Agriculture" is scheduled for the afternoon, where the two prime ministers will also speak.
Brnabic hosted a dinner last night in honor of Slovenian Prime Minister Marjan Sarec, whom she welcomed in Skadarlija, her office announced.
Sarec arrived in Belgrade last night and was met at the Nikola Tesla airport by Minister of Labor, Employment, Veteran and Social Affairs Zoran Djordjevic.
(Telegraf.rs/Tanjug)
Pošaljite nam Vaše snimke, fotografije i priče na broj telefona +381 64 8939257 (WhatsApp / Viber / Telegram).