Dacic: Pristina's moves are result of nervousness because of upcoming KLA indictments
Some of these indictments will be announced before the holidays, while others afterwards - whenever it happens it's clear that this is no longer an empty story - said the minister of foreign affairs
Serbian Deputy Prime Minister and Foreign Minister Ivica Dacic said today that everything that is happening in Pristina these days is the consequence of the Albanians' frustration over the indictments that are being prepared by the special prosecution for the crimes committed by the so-called KLA.
Some of these indictments will be announced before the holidays, while others afterwards, says Dacic and stresses that whenever it happens it's clear that this is no longer an empty story.
Speaking for Happy TV's morning program, Dacic pointed out that the Albanians therefore need a balance at this point so they are launching various stories about Serbs having committed major crimes, and the like.
Therefore, he is not surprised that Jetlir Ziberaj, an adviser to outgoing Kosovo Foreign Minister Behgjet Pacolli, produced some notes from an SPS Executive Committee meeting held many years ago.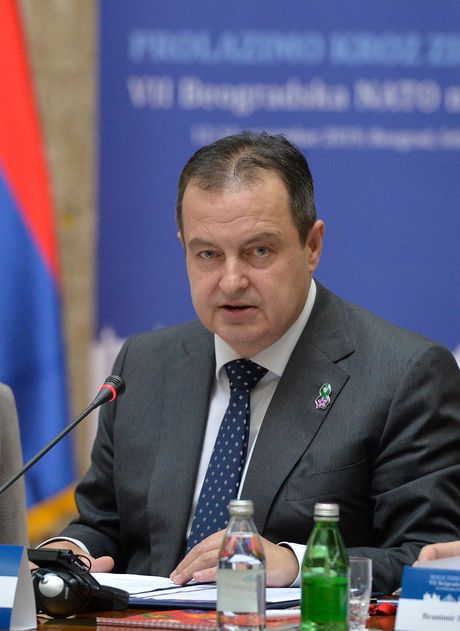 "I don't understand what in that document is so epochal to the Albanians, because there were various topics at that party session, a report on negotiations with the Albanians in Rambouillet was submitted for example, and it was stated that the SPS is in favor of a peaceful solution, but that otherwise we would defend our land and our territory," he said.
When it comes to the overall situation in Pristina, Dacic says they are "as bad as each other, there's such accumulation of various internal and external factors in one place and no positive messages."
The only thing that's positive, he said, is that there can be talks with a clear desire to come to a solution.
However, he added, we now see that these negotiations about a post-election coalition agreement are difficult, and hence the question is when Pristina will be ready to hold any talks at all. Bearing in mind the political situation in general at the international level, Dacic pointed out that it is changing drastically and that therefore Serbia should take a different approach to all topics of interest.
Speaking about a lawsuit filed against him by Pristina's diplomatic representative in Washington, Vlora Citaku, because of his statement that she has Serbian citizenship, Dacic announced that he would next time bring a list of Serbian citizens from Kosovo who work for the UN.
The fact is, he pointed out, that they have Serbian citizenship and are working against Serbia, which he says is important, because this is a status issue after all.
"Albanians are not aware of the current situation," Dacic believes, adding that they are very much mistaken if they think they will get something.
The situation, he added, is so complicated and will take time, which, he assessed, is good for Serbia, because it is better for things to take a long time than to make the wrong decision.
(Telegraf.rs)
Pošaljite nam Vaše snimke, fotografije i priče na broj telefona +381 64 8939257 (WhatsApp / Viber / Telegram).