Watch chaotic scenes in the Assembly of Montenegro: MPs lunging at each other while others film it
The incident occurred because of the proposed Law on Freedom of Religion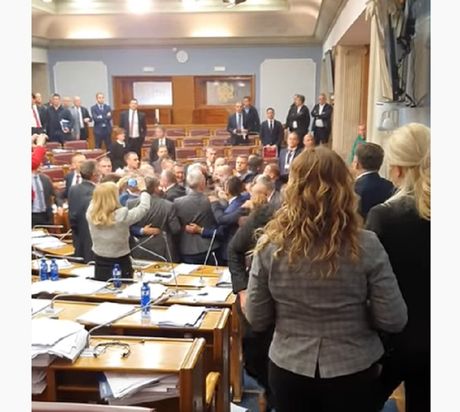 Following the rejection of an amendment of the Montenegrin-Littoral Metropolinate, put into the parliamentary procedure by the Democratic Front, on the proposed Law on Freedom of Religion - which has been adopted in principle - an incident occurred in the Montenegrin parliament last night.
A pyrotechnic device was thrown into the assembly hall after the Law on Freedom of Religion was adopted in principle, a TVCG reporter said. The deputies then started arguing.
DF MPs Milan Knezevic and Andrija Mandic broke some of the equipment located on the table of the speaker. Minutes earlier, Montenegrin Prime Minister Dusko Markovic and the ministers left the plenary room, and the police intervened.
....... pic.twitter.com/KttTcmYj0b

— Sajam Ludaka (@BoraKonj) December 26, 2019
All DF deputies were detained and escorted to the Podgorica Security Center in two police vans. According to the Montenegrin media reporting unofficial information, DF MP Marina Jocic threw a bottle at Ranko Krivkapic (SDP), while Milun Zogovic targeted Ivan Brajovic. A firecracker or tear gas was thrown into the hall by DF club chief Milutin Djukanovic. These allegations have not been confirmed.
Podgorica was under siege all day yesterday and for half the night, while in the Assembly a debate was taking place on the draft Law on Freedom of Religion, which envisages that all religious communities must prove that they owned church property before 1918 - otherwise that property will be confiscated. 20 minutes after midnight, the Law on Freedom of Religion was adopted in principle, followed by the incidents in the hall itself.
(Telegraf.rs)
Pošaljite nam Vaše snimke, fotografije i priče na broj telefona +381 64 8939257 (WhatsApp / Viber / Telegram).