President Vucic announces meeting with patriarch: We will discuss ways of helping our Church
Vucic assessed that "Serbia's hands are quite tied"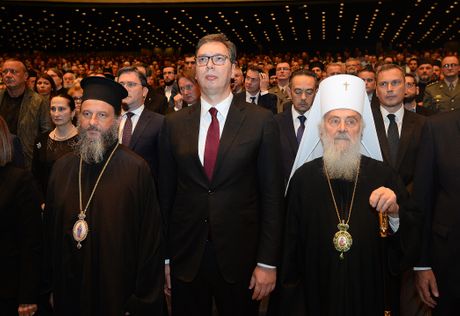 Serbian President Aleksandar Vucic announced last night that he would speak with Patriarch Irinej today about setting up a commission to see how to legally go before global and international organizations, regarding Montenegro's Law on Freedom of Religion.
"We will discuss how to help our Church. I am not an expert in metropolinates and dioceses, for me there is only the SPC (Serbian Orthodox Church)," Vucic told RTS.
He said that Serbia's hands are quite tied and that it is doing its best.
He recalled that the state union (of Serbia and Montenegro) no longer exists, and that Serbia respects Montenegro as an independent state that became independent in 2006 - and that those who were in power in Serbia then are now criticizing him for his alleged passivity.
Asked if the situation would have been different had he been in power when the referendum on Montenegro's secession from the state union was held, he answered without any dilemma that he would: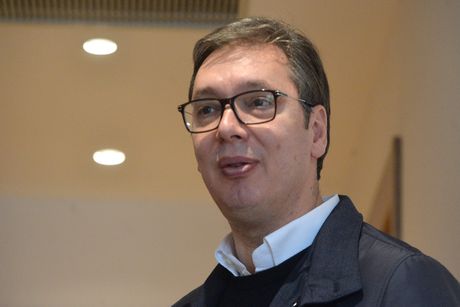 "I would have run a smart campaign, I wouldn't have worked on how much money somebody would take from RTS, or from other countries, from various embassies or hotels, instead I would have bitten and fought for the survival of the state union," he said.
"Milo Djukanovic would not have received even 50 percent of the vote in the independence referendum, let alone the 60 percent that he received, had there been people who seriously campaigned," says Vucic.
Asked if any of this would even have been possible at all under the circumstances such as they are "under Djukanovic" - Vucic said that, unlike other politicians who always say that someone else is to blame, he does not believe in conspiracy theories and in everything always being set up by somebody, but instead believes in knowledge and work.
"It's up to us now to respect that decision, to respect Montenegro, but also our people there. We look not to spoil relations with Montenegro, to remain brothers, but also we want to talk about our people," he underlined.
He expects a good turnout in the upcoming election
President Aleksandar Vucic said last night that he expects a good turnout in the spring election, regardless of the decision of some parties to boycott them, adding that the elections will certainly be difficult for his party, because everyone will go against it.
He reiterated that the parliamentary election will take place either on April 26 or May 3, because, as he pointed out, he is fulfilling his promises, and after (Orthodox) Christmas, he said, he will talk with Ivica Dacic about his proposal to go to these elections together.
Asked with whom the SNS will go to the parliamentary elections, Vucic said a decision would be made in the next month and a half.
Asked what kind of turnout he expected, percentage-wise, Vucic said he could not talk about it, and recalled that there had been between 53 and 56 percent in the past depending on whether those were parliamentary or presidential elections, and that it remains to be seen now.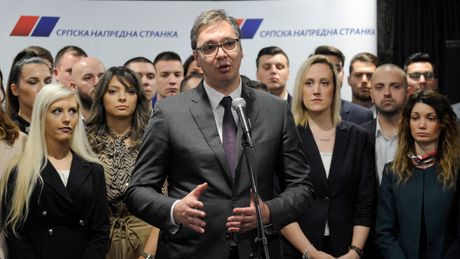 "In any case, I expect a good turnout, but I also expect the SNS to have many problems in these elections," he said, explaining that he sees problems in everyone going against one election list and one party.
"They can say whatever they want, no one will attack them. And that's everyone who participates in the election campaign. Whether you have five or 20 lists, everyone will do the same job," said Vucic.
Asked about the changes in the SNS, which have been announced for after the election, Vucic said that the changes would be seen in the election itself.
"I said that 60 percent of the list, also locally, will be different leaders. You know what kind of changes - 60 percent. People say changes are being announced all the time. We're not announcing, we've replaced six mayors in Vojvodina alone," said Vucic.
President addresses criticism of Little Schengen
Serbian President Aleksandar Vucic said last night that "Little Schengen" suits all countries in the region, not just Serbia as some critics are saying, and added that numerous studies had been done before this regional initiative that confirmed it.
When the RTS reporter said that some critics say that "Little Schengen" suits only Serbia because it has trade surplus with everyone in the region, Vucic said that it's true that our country has surplus with all the countries in the region, except Hungary, but that "Little Schengen" is an initiative that will suit both Albania and North Macedonia, with the hope that Montenegro will become a part of it.
"It's true that our country has surplus with all the countries in the region, even with Slovenia, Croatia, which was never the case in the era of former Yugoslavia, also with Bulgaria, Romania, except Hungary. That speaks to how much Serbia has progressed, how much better positioned it is," said Vucic.
He reiterated that "Little Schengen" would suit everyone in the region, adding that many studies confirm it.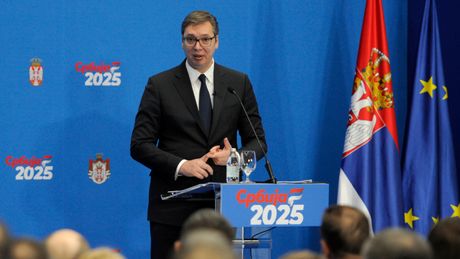 "Of course it suits Albania as well as North Macedonia and Montenegro and Bosnia and Herzegovina (BiH). BiH, without it, will only have more problems," Vucic said.
Asked if "Little Schengen" suits Europe, Vucic said that they should not say anything against the initiative because it is based on all freedoms that are European values - but that he is not sure that they are "too happy."
"Whenever the Balkan people take matters into their own hands without asking the daddy and the mommy from up above, they face some kind of problem," Vucic stressed.
When the journalist said that while he was a member of the Radical Party he criticized CEFTA (regional free trade agreement), Vucic confirmed that he had been against CEFTA, but for political reasons, because at that time CEFTA was represented politically as "the introduction of Kosovo by the back door" - and that he stands by that.
In economic terms, he said, he was wrong, because in that sense it is a good regional initiative.
Pošaljite nam Vaše snimke, fotografije i priče na broj telefona +381 64 8939257 (WhatsApp / Viber / Telegram).