Marko, 24, who killed a man in a Vranic church, suspected of killing Skaljari Clan leaders in Athens
He was only arrested ten days ago while staying with a friend in Arandjelovac, when a pistol and a forged Bulgarian ID card were found in his possession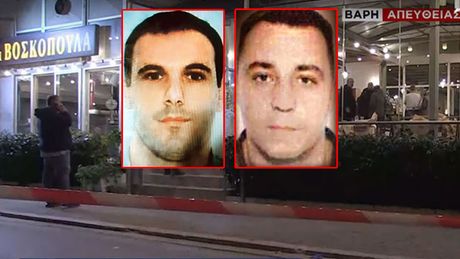 Foto: MUP RS, Printskin: Youtube/OneTV
Operative information available to the police shows that Marko Petkovic, 24, is one of the four shooters who on January 20 killed the leaders of the Montenegrin criminal group Skaljari Clan Igor Dedovic and Stevan Stamatovic. The two were shot dead in front of their wives and children in a restaurant in Athens. In 2015, Petkovic killed a man in the yard of a church in Vranic.
On August 2, 2015, Petkovic used a knife to stab Sasa Joksic, 39, to death for warning him against urinating in the church's yard.
Marko was detained for some time after the monstrous murder in Vranic, but in a surprise court decision in 2018, he was released from prison pending the end of his trial, and had been a fugitive eveer since. He was only arrested ten days ago while staying with a friend in Arandjelovac, when a pistol and a forged Bulgarian ID card were found in his possession. A source from the security services has told the daily Informer that investigators on that occasion learned more information.
"It has been determined that Petkovic was in Athens on January 20, when the leaders of the Skaljari Clan were killed, and that he used Bulgarian documents, which have been found in his possession, to enter Greece. Just hours after the liquidation in the Voskopoula restaurant in Athens, Petkovic left Greece for Bulgaria using these fake documents, arriving in Serbia a day later," Informer's source said.
According to him, our security services in cooperation with Greek counterparts in the meantime learned about the identity of the other three suspects in the mafia hit carried out in Athens, but there is no solid evidence yet for their arrest.
"It is suspected that all four suspects in the murder of the Skaljari Clan leaders had Bulgarian documents that they used to enter and then leave Greece, and these are citizens of Serbia and of Montenegro. As for Petkovic, there is credible information that while running from justice in connection to the Vranic murder case, he got involved with a very powerful criminal group on whose orders he later, along with three other mercenaries, killed the Skaljari men in Athens," said the source. The killing of the two Skaljari Clan leaders, carried out in a crowded restaurant in front of their wives and children, attracted much media attention in the Balkans.
Four killers, masked with hoods and scarves, entered the restaurant, and while two were holding up terrified guests, the other two went upstairs to the restaurant's second floor and stood before Dedovic and Stamatovic, who were having dinner with their families.
"They fired more than 20 shots into the heads and chests of the Skaljari men, while one bullet hit Stamatovic's wife in the leg. The whole attack was carried out with precision and lightning speed, because it was all over in less than 30 seconds. The killers, making use of the panic they caused, exited the restaurant unobstructed and got into an SUV that was waiting for them nearby, fleeing the scene," Greek media reported at the time.
Both Dedovic and Stamatovic were on the run at the time they were killed. Fearing they might be killed by members of the rival Montenegrin gang known as the Kavac Clan, they changed their personal appearance, grew beards, lost weight dramatically and kept changed their place of residence frequently. However, the killers located them in Athens after following their wives and children for months! Namely, Igor's and Stevan's wife went to Greece for the New Year holidays and it was clear to the killers that they were there to meet with their husbands. While in Greece, Dedovic and Stamatovic moved around without security so as not to attract attention, and had dinner twice a week at the Voskopoula restaurant in Athens after their families arrived in town. The killers couldn't miss that, so on Sunday, January 20 they prepared and carried out the mafia execution.
Security cameras at the restaurant were off at the time, while the footage from nearby buildings shows only four dark silhouettes moving away from the crime scene.
According to police information, Igor Dedovic was the head of the Skaljari Clan, having taken over from Jovan Vukotic, who is in a Serbian prison awaiting a decision on extradition to Montenegro. The Montenegrin police had issued a warrant for Dedovic's arrest as a suspect in attempted murder of two members of the rival Kavac Clan in 2016 - Milos Radonjic and Vojin Stupar. Dedovic had also been repeatedly linked by media to cross-ocean cocaine smuggling, but he always denied it, claiming that he was neither the boss nor a member of any criminal clan.
As for Stamatovic, he was known as the leader of the Podgorica branch of the Skaljari Clan, better known as the Zagoricka (Zagorica) Group. Recently, he and his five-member group were sentenced in Podgorica's Higher Court to a total of 41 years in prison for creating a criminal organization and attempting to liquidate Niksic resident Radojica Zekovic by planting a bomb under his Golf 5 car in May 2017. Stamatovic was also linked to the murder in Serbia of a Partizan football club supporter group leader Aleksandar Stankovic, aka Sale Mutavi, that took place in Belgrade in 2016 - but he denied that.
Video:

The murder scene in Athens: Heres where killers riddled Skaljari Clan men with bullets in cold blood, in front of children
Video:

If you want to murder someone and get away with it, come to Setonje
(Telegraf.rs/Informer)