I sat with released rapist from Pozega on a train: He said he was going to rest, then finish the job
Pedja Baranac from Uzice traveled on a train on Friday with Milenko C. He tells Telegraf.rs that he told him he was relesaed from Padinska Skela (prison), where he served time "for murder"; he did not have money for a ticket, he was as quiet, but with a surly expression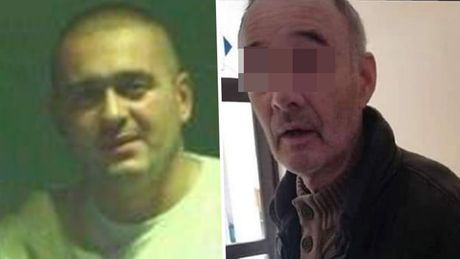 Milenko C. (64), a multiple rapist who has been released from prison, on Friday traveled from Belgrade to Krcagovo near Uzice, where his sister lives, and sitting opposite him on the train was Pedja Baranac, born in Pozega who now lives in Uzice. At that moment, Baranac had no idea who this was, and he only found out that he had traveled with a rapist on Wednesday, when his wife showed him Milenko's photo published in the media. Only then did he realize that he had been sitting next to a person because of whom all of Serbia, and their region in particular, are currently in fear.
Baranac told Telegraf.rs that Milenko told him during the trip that he had spent 20 years in prison, allegedly because he committed murder, that he was released from the Penitentiary Sentencing Correctional Institution Padinska Skela - but that he would now take a break, and then "finish what he started".
"I was returning from Belgrade where I was on business, and took the train in Rakovica, same as that man, who came in and sat across from me. The train was full, the school break started that day. We didn't communicate at all until the conductor arrived. When the conductor came and asked for his ticket, he didn't have one. He pulled out some ID and said he was a former convict. I kept silent," Baranac begins his story for Telegraf.rs
He didn't have a ticket
He explains that if a passenger doesn't have a ticket, it can be filed against their ID, so when they can pay once they arrive in their city. However, they behaved towards this man with compassion.
"He pulled out an old ID, he didn't have the new one. Then we asked him how long he had spent in prison, considering that his ID was the old version. He said 20 years. Since the conductor is my school mate, we felt sorry for him and he was allowed not to pay the ticket at all. We didn't know why he was in prison, so we decided to let him off the hook," says our source, adding that the ticket cost at most 800 dinars.
According to him, Milenko left the train in Krcagovo, in Uzice, a stop before the main station in that city.
"When the conductor left we started to talk. He told me he was born in 1956. I asked why he was in prison for so many years, he said it was for murder. He said he had a serious dispute with a man in Belgrade, and shot him. He was released from Padinska Skela. I didn't comment on that. He said that he was a native of Pozega, that he would go to his sister's in Krcagovo, that he would take a break and finish what he had started. He also said that he did not have a family, that he was divorced, and that he lived in Pozega, where he was born," Baranac said. It took three hours to get to Krcagovo. During this time, he says, Milenko did not show a hint of aggression, but his eyes caught his attention.
"No, not at all aggressive. He was as quiet as a mouse. I'm 190 centimeters tall, weighing 110 pounds, so he couldn't show any aggression towards me. But he had a frown on his face in some moments. And, as folks say, there was barely any of him (physically)," said our interlocutor, who added that two girls sat with them, but he did not look at them aggressively.
He was surprised that Milenko, after so many years in prison, knew every station on the route they traveled.
On the train he was quiet as a mouse
Milenko left the train in Krcagovo, where a large, blond woman who was no more than 55 years old was waiting for him:
"He was carrying a bag when he got off the train. He smiled slightly and she, I read her lips, said to him, 'At last it's over'. She showed it with her hands, too."
Our interlocutor told the story about the passenger and the woman when he got home, and to his colleagues the next day. He didn't know who this was until Wednesday when his wife showed him a picture of Milenko published online.
"It was him. I couldn't believe it was the man I traveled with. Immediately today I called the police in Uzice and told them everything. I considered it my civic duty. They said it was good that I reported it so they knew it was in the area."
Baranac also says that a friend told him that the man allegedly raped a 12-year-old child.
"That's really scary. I hope he doesn't repeat it as soon as the opportunity arises. What's the use sending him back to jail for life if another child suffers. And to Mr. Igor Juric - well done for drawing the public's attention to him," Pedja Baranac ends his story, which he decided to tell above all to make sure no other girl or woman goes through the trauma.
The news that Milenko C. had been released was fist published by Igor Juric, the founder of the Tijana Juric Foundation, two days ago when he urged parents in Pozega and Uzice to look after their children.
VIDEO: Exhausted, barely able to walk: This is how the Barber of Malca was taken to a police station
(Lj. Racic - lj.racic@telegraf.rs)
Telegraf.rs zadržava sva prava nad sadržajem. Za preuzimanje sadržaja pogledajte uputstva na stranici Uslovi korišćenja.