Ex-Corridors director's first court appearance since Doljevac crash: "I don't know what happened"
As the former director of the Koridori Srbije company said, he was asleep at the time of the accident Foto ilustracija: Telegraf/Tanjug/Zoran Zestic
Former director of Koridori Srbije (Corridors of Serbia) Zoran Babic made his first appearance today at the trial in Nis for a car accident that happened on January 31 last year. At the time, his driver, Dejan Stanojevic, caused a crash at the Doljevac toll booth. Stanika Gligorijevic (52) died in the accident. Another five people were injured, including Zoran Babic. He is still receiving medical treatment, he says.
"I was asleep at the time of the accident, I don't know what happened. I don't blame the driver and I am not joining the prosecution," Babic said.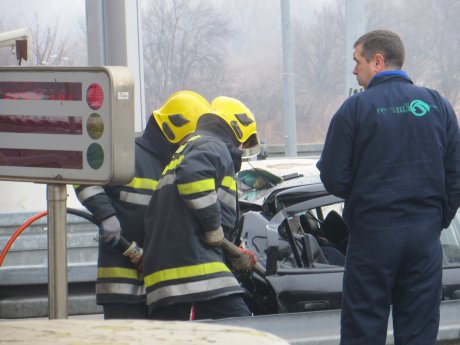 During the first hearing held on November 22, Stanojevic pleaded in part to admit his responsibility because he was driving fast, but also said the accident was the result of ice on the road that made the surface slippery in conditions of reduced visibility due to fog.
According to the indictment, the accident occurred when Stanojevic, while driving a Skoda Superb at 93 kilometers per hour, crashed into an Opel Astra which had stopped at the toll booth, causing the car to bounce and hit the rear of a Volkswagen Passat that was leaving the booth.
The prosecution has asked for Stanojevic to be sentenced to five years in prison and to be banned from operating a motor vehicle during the same period.
Video: Firefighters cut through car wreckage to reach a victim
(D.K)