Magnificent scene from Podgorica procession: Citizens turn on the light to show how many they are
The moving scene involving thousands of people took place in front of the Temple of the Resurrection of Christ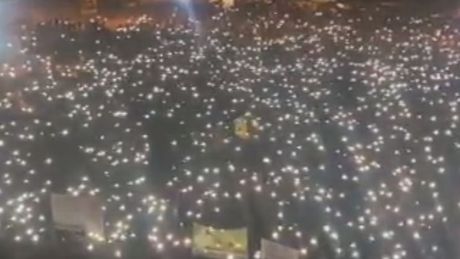 Printskrin: Facebook/Petrovac INFO
Another procession was organized in Podgorica last night to protest the adoption of the Montenegrin Law on Freedom of Religion, Vijesti.me reported. During the procession, a magnificent moment occurred, when citizens turned on the displays on their cell phones to show how many had gathered.
After the prayer service in the Temple of the Resurrection of Christ, the clergy of the Metropolitanate of Montenegro and the Littoral of the Serbian Orthodox Church (SPC) and citizens walked down the Svetog Petra Cetinjskog Boulevard, past the Old Government building and the Millennium Bridge, after which they returned in front of the temple.
"All that is happening... This injustice echoes, but the dignity, peace and tolerance that you are showing these days amazes Europe and the whole world," said Podgorica priest Predrag Scepanovic, addressing the citizens who gathered in front of the temple.
The abbot of the Savina monastery, Makarije, said that those who don't have faith cannot understand this.
"And these days, faith brings you here," he said, adding that 200,000 people were taking part in processions.
"I wondered why I was here. I realized that I came to learn something. As long as mothers and fathers come to processions with their children, we have nothing to worry about. God is with us," he said.
After this, a touching scene took place when those who gathered, wishing to show how many of them were there, turned on the displays on their mobile phones and thus illuminated the entire square.
They did so after one of the speakers invited them to "show how many they are." All along, they chanted, "We won't give away our shrines."
(Telegraf.rs)