City Institute for Protection of Monuments: Victor will continue to be tilted, but is stable
The leaning of the pillar, they Institute added, is now a part of the Victor's history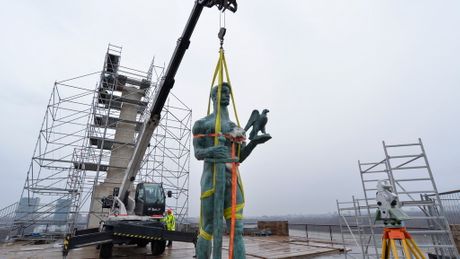 Foto: Zavod za zastitu spomenika kulture grada Beograda
The restored Victor statue has been returned to its place on in Kalemegdan, where it had been standing for 91 years. As noted by many who witnessed the event, the pedestal remained tilted, however, this will not endanger the stability of the statue, said the designer in charge from the Belgrade City Institute for the Protection of Cultural Monuments, Nevenka Novakovic.
"When the Faculty of Civil Engineering completed the reconstruction checks, it was found that the pedestal was tilted and that these movements had to be stopped. Working together, we found that it was better not to straighten it, as it could have caused fresh damage to the pillar as well as new cracks. That is why it the plan was only to reinforce the structure and prevent further movements," explained Novakovic.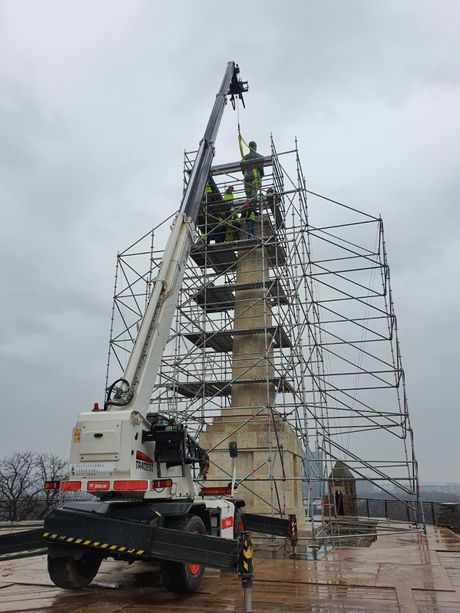 The leaning of the pillar, she added, is now a part of the Victor's history, and from conservation experts' point of view, the decision is justified and does not endanger its stability.
The statue will continue to have an inclination of 30 centimeters, and Novakovic confirms that its increased weight of 1,300 kilograms will also not affect the safety of the structure.
The director of the Institute, Olivera Vuckovic, said that the professional team that worked on the restoration had great responsibility and anxiety, because everything had to be completed in the best possible way.
The greatest debt of gratitude is owed to sculptor Zoran Kuzmanovic and a team of professionals - art historians, conservation experts, architects, who carried out the return of the Victor from beginning to end, she said.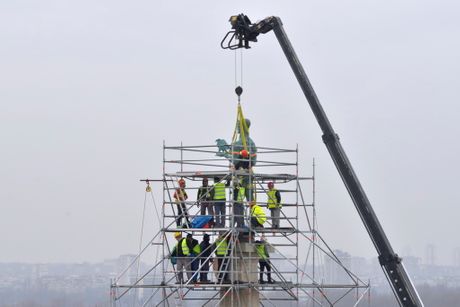 Mayor Zoran Radojicic and Deputy Mayor Goran Vesic attended the installing of the symbol of Belgrade.
They were pleased with the work done, pointing out that an important historic undertaking has been completed, "because the story of the Victor is the story of Serbia and its people and mentality."
"After 127 days, the Victor returned to the pedestal to guard our city. Belgrade's skyline is unimaginable without one of Ivan Mestrovic's best works," Vesic said.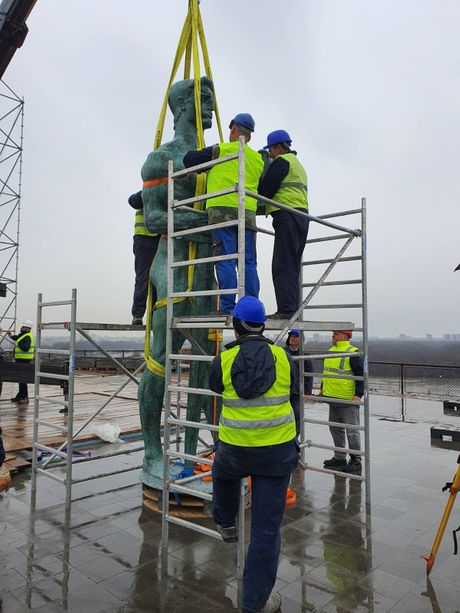 He stressed that it had been known for ten years that the statue was in bad shape, that the pedestal was tilted by 30 centimeters, that there was damage - and when the Institute indicated that it was time for restoration, the City decided to support it with 200,000 euros.
"We are present for a historic moment, the citizens of Belgrade experienced seeing the statue from up close only in 1928 and now in 2020. Now the statue has finally been restored and returned to where it belongs," said the deputy mayor.
Radojicic believes that the Victor is the crown of Serbian history, tradition and art, and "as a symbol of Belgrade is a part of all of us and represents a view of the future of the capital."
Video:

The Victor returns to his throne: Watch the symbol of Belgrade return to its place after 4 months
(Telegraf.rs)