Serbian health minister tells China's national broadcaster CCTV: We support you as you supported us
"I know that the speed of diagnosing the virus has increased, and that, most importantly, the number of people who have been cured is increasing every day," said the Serbian minister of health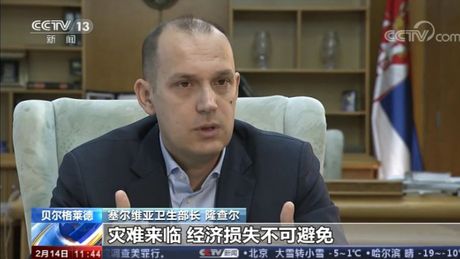 Printskrin: CCTV
Health Minister Dr. Zlatibor Loncar has spoken for China's national television CCTV, and the conversation with him aired today.
Loncar stressed the full support for the people of Wuhan and all of China, and especially for health care workers who are making superhuman efforts to treat those in danger and combat the epidemic.
He stressed that he was well aware of the measures taken by China to combat coronavirus.
"I know that China has taken all possible measures to suppress the spread of the virus and reduce the negative impact of the epidemic. I am sure that the Chinese people and the state will make up for economic losses as soon as possible. I had the opportunity to speak repeatedly with the Ambassador of the People's Republic of China in Serbia, Ms. Chen Bo, who briefed me about the situation and activities undertaken by our friends in Beijing."
"I know that the speed of diagnosing the virus has increased, and that, most importantly, the number of people who have been cured is increasing every day," said Loncar.
Minister Loncar particularly underlined the support that Serbia received on several occasions from the People's Republic of China.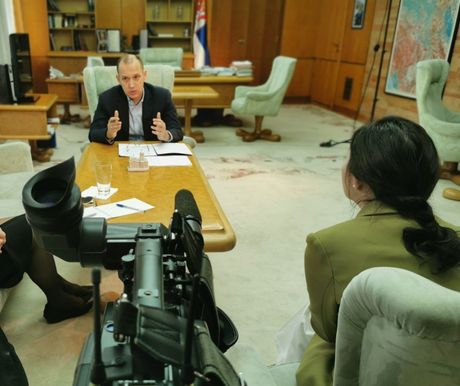 "The citizens of Serbia remember and greatly appreciate the support of China and the Chinese people shown to us both in terms of preserving Kosovo and Metohija within Serbia, as well as during the 1999 bombing, in other words, whenever our people went through difficult times. There are also a lot of people from China who live here in Serbia, who work here... That's why these days our thoughts are with the Chinese people, whom we want to see endure, recover as soon as possible, and come out victorious from this difficult struggle, as they have done many times in history. Great support and great love for all Chinese citizens and for people who care for the sick, to overcome this situation as soon as possible," said the Serbian minister of health.
VIDEO: Ambulance crew treats a coronavirus patient in China
(Telegraf.rs)