Novak Djokovic stands in defense of shrines: Support for brotherly people in Montenegro!
He wrote the message in Cyrillic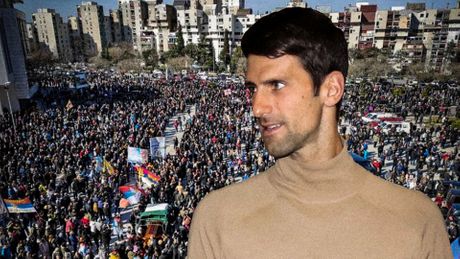 Foto ilustracija: Telegraf/vijesti.me
Novak Djokovic addressed the situation in Montenegro, where people have been protesting for weeks over the controversial Freedom of Religion Law.
Montenegro has risen to its feet, in all towns people are taking to the streets and are saying in protest processions, "We won't give the shrines."
During one of the protests, speakers congratulated Novak on winning the Australian Open, after which the crowd chanted his name.
Djokovic is not hiding his support for the shrines in Montenegro, and now he has shared it on social networks, where he posted a photo of people taking part in the processions along with a message he wrote in Cyrillic.
"Greetings and support for the brotherly people in Montenegro," Djokovic posted, along with emojis representing prayer, heart and eagle.
Поздрав и подршка за братски народ у Црној Гори 🙏🏼❤🦅 pic.twitter.com/LZsMARzakZ

— Novak Djokovic (@DjokerNole) March 6, 2020
Video:

Nole, Nole  - thunderous chants during protests in Podgorica: Montenegro bows before Djokovic
(Telegraf.rs)