Cocaine vessel "Budva" sets off for Nigeria: Drugs were hidden in fruit crates
The Budva was sailing from Hamburg to Nigeria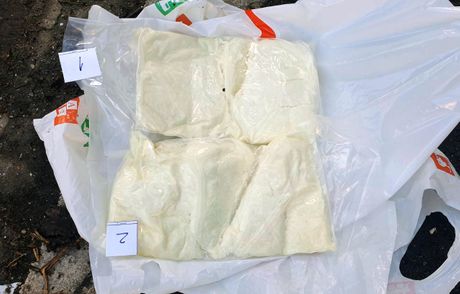 The ship Budva, aboard which half a ton of cocaine has been found, resulting in the arrest of Mladen Radulovic, from Bar, Montenegro, set sail in this morning from the port of Hamburg and was bound for Nigeria, to where it was transporting a cargo of grains, Tihomir Mirkovic, executive director of the Bar Navigation company, that owns the ship, confirmed for Feral.bar website.
"There were no additional hold-ups, nor any possible costs for the ship and the company," Mirkovic said, Podgorica daily Vijesti writes.
This comes a German investigators are determining whether Mladen Radulovic, 45, was the only one involved in the smuggling of half a ton of cocaine, or whether some of his colleagues knew what kind of cargo had been on board of the (Montenegrin) state-owned Budva vessel.
They also reportedly have at their disposal information provided by the Montenegrin police to partner services at the beginning of the international operation, the Podgorica newspaper reports.
The Bar man was arrested on May 2, late at night, after the German police raided the ship that sailed under the Montenegrin flag, which had arrived at the Hamburg port.
In addition, there were 22 other Montenegrin crew members on board the ship owned by the Bar Navigation (Barska Plovidba) company.
Operation Budva began about two months ago, when, according to the Montenegrin police, a deal was was made that cocaine worth about 20 million euros would be unloaded in Hamburg.
Reportedly, this was the "closest" approach of the ship to the European mainland, and it suited the smugglers that the company leasing the Budva freighter was contracted to load grain in Germany.
The drug takeover was stopped by the police, who on May 2, just after 10 pm, raided the ship, searched it and found cocaine in plastic fruit crates.
High ranked official of the Montenegrin Police Directorate told Vijesti that the Budva had been under strict surveillance since the start of the operation and had been monitored since it sailed from Casablanca on April 19 on its way to Germany.
Since then, inspectors of the Organized Crime and Corruption Sector had been exchanging information daily with colleagues from the US DEA Agency, and law enforcement in the UK, Portugal, Spain, Germany and the Netherlands.
According to Vijesti, police forces of all countries through whose territorial waters the Budva sailed were on alert, so that,  in case information about the operation got out - the smugglers would not change plans and transfer the cocaine from the cargo ship to smaller vessels.
The Budva was built in 2014 in the Chinese shipyard Jinling for the company Barska Plovidba. It sails under the Montenegrin flag and its entire crew is Montenegrin.
Video:
Incredible footage shows coastguards raid moving submarine filled with cocaine
(Telegraf.rs)