Zeitenlik's guardian, legendary grandpa Djordje Mihailovic (92), receives Serbian citizenship
For 60 years, he has been welcoming and seeing off descendants of Serbian warriors in a special way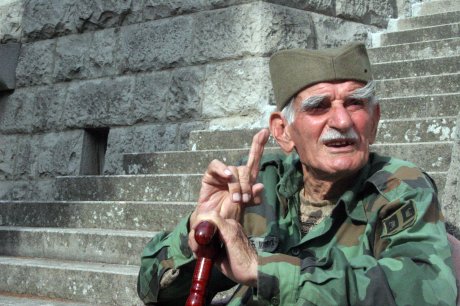 Greek citizen Djordje Mihailovic, who has been a guard and a guide for decades now at the Serbian military cemetery Zeitenlik in Thessaloniki, Greece, has been admitted to the citizenship of the Republic of Serbia. This decision made by the Serbian government has been published in the Official Gazette.
The famous grandpa Djordje was born in 1928 in Thessaloniki, having turned 92 on May 1.
For 60 years in Zeitenlik, he has been in a special way welcoming and seeing off descendants of Serbian warriors who died fighting on the WW1 Macedonian (Salonica) Front.
After his father Djuro and grandfather Sava, Djordje is the third generation of Mihailovics who have been the guardians of Zeitenlik. Djordje Mihailovic has no heirs, so Predrag Nedeljkovic is expected to succeed him as Zeitenlik's guardian.
The verses and selected words spoken at the place where 8,000 warriors and heroes rest, with which grandpa Djordje greets visitors, remain permanently recorded in their memory, and there are numerous photographs they take with this extraordinary man.
For his long-term dedication, Djordje Mihailovic has been awarded the Order of the Serbian Flag of the second degree and the Order of Saint Sava of the first degree.
Video:
Telegraf in Zeitenlik with its guardian Djordje Mihajlovic
(Telegraf.rs/Tanjug)