Leading Serbian epidemiologist posts two words 11 minutes before midnight: "Temporary check-out..."
Dr. Kon signed off from Facebook without explaining why he was doing that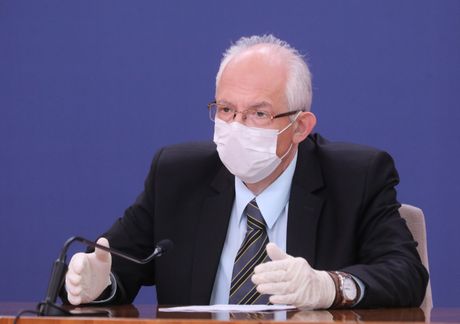 Epidemiologist Predrag Kon temporarily left from the social network Facebook last night, where he was very active.
Kon logged out of Facebook 11 minutes before midnight. All he wrote were two words:
"Temporary check-out..."
Dr. Kon, who is the head of the Infectious Diseases Unit of the City Institute of Public Health and a member of the Crisis HQ for the fight against coronavirus, did not explain to his friends why he was doing that.
That is why some asked him if he was going on a vacation, or if he was leaving Facebook or the Crisis HQ - while others told him to come back, to take care, because it is not easy to be available to an angry plebs...
Dr. Kon is often the target of attacks due to the coronavirus epidemic. Blame was first imposed on him when the virus entered the Gerontology Center in Nis. At that point, he wanted to resign from the Crisis HQ.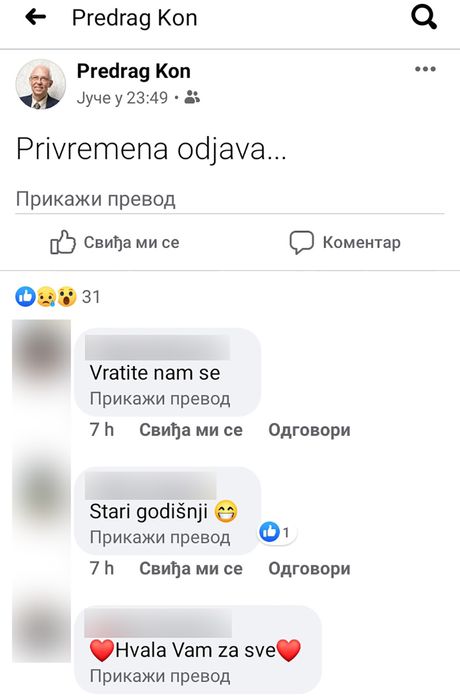 Last weekend, he was seen in a cafe, where he was photographed, with his picture circulating on the internet, as people noted that he wore his mask under the chin and that did not adhere to the social distancing rule.
One of the best epidemiologists in our country, during the coronavirus epidemic, Kon received a promotion from major (reserve) to the rank of medical lieutenant colonel in April.
Video:

Here is what Dr. Kon said about Dr. Nestorovics recommendation that people should sunbathe more, because that kills the virus
(Telegraf.rs)