107 patients already in new COVID hospital, 4 intubated; They're much younger than the first time
"The average age of patients is around 50, which means that they are younger than at first," said Marija Zdravkovic, the director of KBC Bezanijska Kosa in Belgrade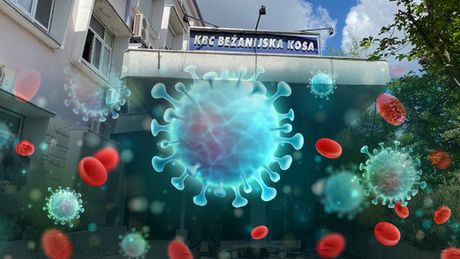 The Bezanijska Kosa Clinical-Hospital Center (KBC) yesterday became a COVID hospital, and 107 patients have been admitted since then. According to the director of this health institution, Marija Zdravkovic, the average age of patients who have been hospitalized there is much lower than in the original outbreak of COVID in Serbia - it's now about 50.
Dr. Zdravkovic told RTS that all patients exhibit a moderate to severe clinical picture.
"Yesterday from 1 pm we received 107 patients. 12 patients are in intensive care and four patients have been intubated. The average age is around 50, which means that they are younger than at first. The youngest patient is 23, and the oldest is 86 years old," said Dr. Zdravkovic.
She said that apart from those coming from Belgrade, the most difficult coronavirus cases from Novi Pazar, Uzice and other towns are among the patients who have been admitted to this COVID hospital.
She stressed out that patients do not come to this hospital for an examination, instead, if they have symptoms, they should go to a health center or an infectious disease clinic first, which does the triage.
"Two thirds of our capacity is free, while one third has been filled up," she stated.
189 doctors and 500 nurses and technicians are caring for those infected with coronavirus who are treated in this health institution.
Video:
Crisis HQs new measures: Mandatory wearing of masks, distance is changing, ban on visits to hospitals
(Telegraf.rs)