Dino Radja furious because of Novak: Mice who'd give anything to be him are nailing him to the cross
Legendary Croatian basketball player Dino Radja spoke for RTS this morning about the attacks on Novak Djokovic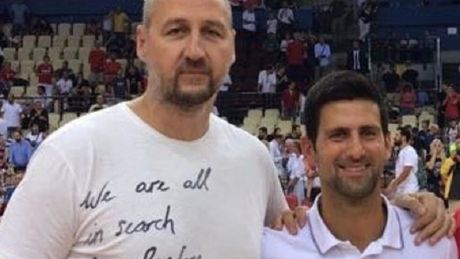 Radja reacted strongly because he was revolted by the attacks on Novak, who has supported Croatia many times and in the end decided to organize the Adria Tour tournament in Zadar.
"First off, let me make it clear immediately, because of course I've been told I'm defending a friend. However, he and I met once in my life, talked for a few minutes, took pictures and tha's it. I am not defending him because we are friends, but because first of all I respect him extremely as an athlete, because of everything he has achieved and I respect him even more because of his behavior," Radja, who was quite emotional, said.
"The man really tried to do something for us, some kind of promotion. What happened happened, but when you look today, after eight days, beside those who participated (in the tournament) there are three or four infected people in Zadar. You have hundreds of cases all around, but that's no big deal. Of course, the point is not to nail to the cross someone unknown, but someone well-known. The fact that they are taking it out on him caused a reaction in me that was worded in two minutes and came out, and then they went 'crazy'," says the Croatian basketballer.
Many of those who first wrote odes to Novak then "changed the tune" as soon as the name of the first infected tennis player, Grigor Dimitrov, was made known.
"It's a general curse of the human race. He is attacked by the little mice who would give anything to be in his place and who are jealous of his successes and everything he does. It's simply a kind of crime that I will never understand and that is inconceivable to me - to rejoice in someone else's misfortune. That is not in my DNA," concluded Dino Radja.
Video:

Dino Radja: When Duda Ivkovic would shout at Drazen, you knew what was in store for you
(Telegraf.rs)