Macedonian hackers take down sites of Dua Lipa and Rita Ora; "Kosovo is already a part of Serbia"
The hackers posted that they had just sent Rita Ora "to plow a field for two hours, which is enough for starters"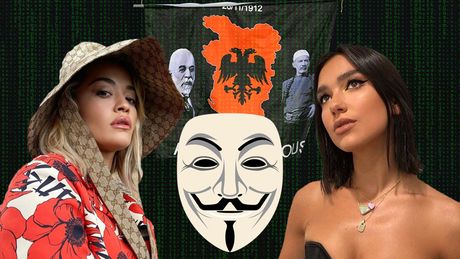 Members of Macedonia's Anonymous community announced on Twitter that they had taken over the websites of pop singers Rita Ora and Dua Lipa, who were born in Kosovo.
This was done after both of them used social media platforms to publish the map of the so-called "Greater Albania," with Lipa adding, "Why Kosovo is not and never will be Serbia."
On Thursday evening, AnonOpsMKD said on Twitter that the takeover of her site was done "purely for scientific purposes, for the sake of those who thought we didn't have the capacity to do it," and that the site would be down for one hour.
A while later, the same group announced they had sent Rita Ora "to plow a field (a play on words involving the meaning of her last name) for two hours, which is enough for starters" - that is, that her site had been taken over as well.
"Kosovo is already put on every map, as a part of Serbia," members of Macedonia's Anonymous said on Twitter.
"We do not forget, We do not forgive, Expect us," they concluded.
(Above: Telegraf JetSet's Facebook post in Serbian: "Dua Lipa 'appropriates' Serbian product as Albanian speciality, but you should hear how fluently she pronounces the word 'ajvar' 😁"; "Dua Lipa says everyone should try this speciality (...) before dying - the singer who originally comes from Serbia praises ajvar as "Albanian product")

Both websites have since become available again.
Screenshots of the Twitter posts (in Macedonian):
Video:

How did four Albanians from Kosovo became biggest music stars?
(Telegraf.rs)