Dodik voted against recognition of self-proclaimed Kosovo, Dzaferovic and Komsic in favor
Bosniak and Croat members of the Presidency of Bosnia and Herzegovina (BiH), Sefik Dzaferovic and Zeljko Komsic, voted today in favor of recognizing self-proclaimed Kosovo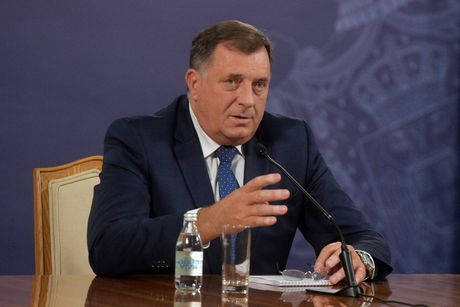 Sefik Dzaferovic and Zeljko Komsic, members of the Presidency of BiH, voted in favor of recognizing Kosovo's independence at today's session of the Presidency of BiH, while Milorad Dodik, the Serb member of the Presidency, was against.
"Dzaferovic and I voted in favor, so now it is two to one," said Komsic.
He added that "Kosovo is an independent state, and that it is a reality from which one should not run away."
"Mr. Dodik did not accept the recognition of Kosovo as an independent state, we voted 2-1 for that decision. Dodik was against and that will be a topic in the coming weeks. It is to be expected that Dodik will request a session of the NSRS (Assembly of the Serb Republic, RS) and present those topics linking Kosovo and the RS. That's a risky story that can escalate into one about secession, and I assume that you all know where that would lead," said Komsic.
During the second extraordinary session, when voting took place on the transfer of the BiH embassy in Israel from Tel Aviv to Jerusalem, Dodik was in favor of the move, while Komsic and Dzaferovic were against.
How they voted on "mini Schengen"
The Presidency of BiH supported a proposed decision on BiH joining the "mini Schengen" initiative, with a certain condition.
As the Sarajevo portal Klix reported, this decision was unanimously supported, the condition being to examine well how this cooperation is envisaged.
An order was made for the Council of Ministers to analyze and inform the Presidency about what joining that initiative would mean for BiH and how it corresponds to other initiatives in the region.
The proposal of the decision on BiH joining "mini Schengen" was submitted by the Serb member of the Presidency, Milorad Dodik.
The proposal to put recognition of Kosovo on the agenda of the Presidency of BiH was submitted by the representative of the Croats, Komsic, who joined the Presidency thanks to Bosniak votes.
(Telegraf.rs)
Pošaljite nam Vaše snimke, fotografije i priče na broj telefona +381 64 8939257 (WhatsApp / Viber / Telegram).