Dodik: RS National Assembly will decide on the issue of Kosovo
At yesterday's extraordinary session of the Presidency of Bosnia and Herzegovina (BiH), a proposal of the decision on the recognition of self-proclaimed Kosovo was not adopted, because Dodik was against it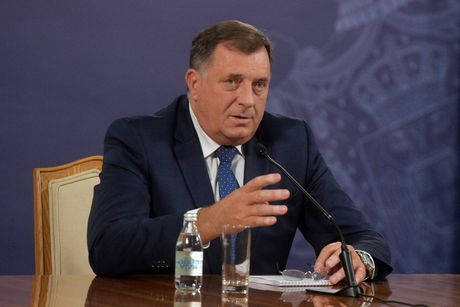 The Serb member of the Presidency of BiH, Milorad Dodik, says that it is good that the issue of recognizing self-proclaimed Kosovo has come up on the agenda of the Presidency of BiH, in order to be resolved once and for all.
He said that in Sarajevo, the story about Kosovo is like a game, where Zeljko Komsic, Sefik Dzaferovic and Bakir Izetbegovic behave as if Kosovo is recognized and that this is how BiH institutions should behave as well.
"It's good that it came up on the agenda, there was constantly calculation, and Komsic was saying publicly that he recognizes Kosovo. When we make the decision that Kosovo cannot be recognized, then any further statement on recognition will mean that it violates the decisions of its own state," Dodik told TV Pink via Skype.
He said that at yesterday's extraordinary session of the Presidency of BiH, the proposal of a decision on the recognition of self-proclaimed Kosovo was not adopted because he was against it, and recalled that it was "outvoted" (2-1) during that session.
That's not the final decision, he recalled, instead the National Assembly of the Serb Republic (RS) will decide on this issue, for which, he says, they have a two-thirds majority, not counting the opposition.
Dodik added that yesterday's session showed how much "absurdity" there is among Croat and Bosniak members of the presidency, because when he launched the initiative to move the BiH embassy in Israel from Tel Aviv to Jerusalem, they said that international rules would be violated, but when it was Kosovo's turn, they said to recognize it - even though that violates UN Resolution 1244.
He also said that procedure has been initiated for BiH to join the "mini Schengen" initiative that was launched by Serbian President Aleksandar Vucic.
In the beginning, he stated, it was interpreted in BiH as Serbia's hidden agenda that would harm them and they considered everything about it to be wrong.
When the US Special Representative for the Western Balkans, Matthew Palmer, said that "mini Schengen" was a good initiative, then, says Dodik, the image of it changed in BiH as well.
"BiH will join, and I believe Montenegro as well," said Dodik and stressed that Serbia is the engine of development of the entire region.
Video:
Dodik raises the issue of vital interest for Kosovo and Metohija
(Telegraf.rs/Tanjug)
Pošaljite nam Vaše snimke, fotografije i priče na broj telefona +381 64 8939257 (WhatsApp / Viber / Telegram).