Turks declare actor Milos Bikovic an Armenian mercenary: They "spot" him in Nagorno-Karabakh
Although Twitter users from Serbia explained in the comments that this is a well-known actor and not a mercenary, the controversial post has not been removed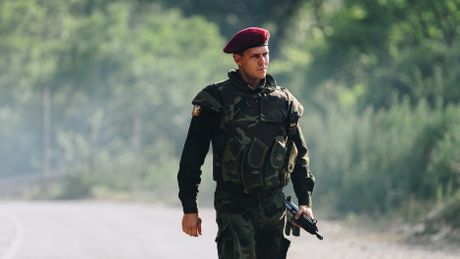 Well-known Serbian actor Milos Bikovic found himself dragged into the conflict between Armenia and Azerbaijan in Nagorno-Karabakh, through no fault of his own. Namely, the Turkish site derindusunce.org published a photo of Bikovic in uniform on its Twitter account, along with a bizarre comment: "Mercenary of Serbian origin Aleksa Djuric was spotted in Armenia... Wagner is not far away."
Sırp asıllı paralı asker Aleksa Djuric Ermenistan'da görülmüş... Wagner uzakta değil...#Azerbaijan #Azerbeycan #ermenistan #Armenia #armenie #karabağ #Karabakh pic.twitter.com/fDejHtQGRD

— Derin Düşünce .Org (@DDGrubu) September 28, 2020
Someone used Bikovic's photo taken on the set of the movie "Kosare" to drag the actor, but also Serbia, into this conflict.
Although many Twitter users from Serbia joined the discussion and tried to explain that this is an actor and not any kind of soldier or mercenary, Derin Dusunce did not remove the post.
Bikovic himself reacted by reposting the tweet, confused by this move by the Turkish site.
🤷🏻‍♂️ wtf https://t.co/6gtYhF7kR8

— Biković (@Bikovic) September 29, 2020
Bikovic then tried to make a joke by writing that he "sometimes, during breaks in shooting, ads and BDP plays, puts on a uniform and goes to establish peace where necessary." He added: "Now seriously: I don't know why you posted a photo from a film set... ridiculous and not serious for a very serious topic."
Sad ozbiljno:@DDGrubu Ne znam zašto ste okacili sliku sa snimanja filma... smešno i neozbiljno za jednu vrlo ozbiljnu temu.

— Biković (@Bikovic) September 29, 2020
Tensions in Nagorno-Karabakh increased after Armenia shot down two helicopters and three drones on Sunday.
Namely, Armenia initially accused its neighbors of shelling civilian positions, and the conflicts soon flared up and resulted in the death of civilians and soldiers on both sides.
Relations between the two former Soviet republics have been tense since 1991, when the Armenian army occupied Nagorno-Karabakh, a territory recognized by the international community as part of Azerbaijan.
The end of the conflict is nowhere in sight. Four resolutions of the United Nations Security Council and two of the UN General Assembly have been passed, which ask for urgent withdrawal of Armenian troops from that territory of Azerbaijan, which is mostly inhabited by Armenians. Nagorno-Karabakh seceded unilaterally from Azerbaijan, but is not internationally recognized as a state.
Video:
Armenia published a video of an attack on Azerbaijani positions: Soldiers flee a second before the strike
(Telegraf.rs)
Pošaljite nam Vaše snimke, fotografije i priče na broj telefona +381 64 8939257 (WhatsApp / Viber / Telegram).