Crisis HW meeting ends: Decisions on Covid measures to be announced at 3 pm
After the last meeting of the Crisis HQ, PCR tests, not older than 48 hours, were introduced for all foreign citizens, starting on December 20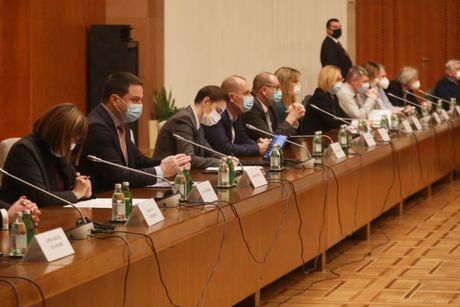 A new session of the Crisis HQ, which started today at 8 o'clock, has ended. Decisions from the session will be announced at 3 pm.
It is unknown at this time what exactly was discussed at the meeting, but in previous days Prime Minister Ana Brnabic spoke about whether new measures might go in the direction of easing the existing ones.
She said that she was personally completely against the ban on movement and the closing of shops and craft shops during weekends, "because those citizens have to earn a living and feed their children." Brnabic then stated that the ban would be introduced if necessary, but pointed out that she believed in the responsibility of the individual.
Doctors and members of the Crisis HQ have been pointing out for weeks that we do not need special measures for the New Year and the feast (slava in Serbian) of St. Nicholas, but that we should respect those that already exist.
"I would appeal on everyone to celebrate big holidays this year in the closest circle of their family and to respect all preventive measures as much as possible," pointed out Dr. Kisic-Tepavcevic.
Extended opening hours for hospitality sector?
According to media reports, it is expected that opening hours of cafes, restaurants and shopping centers, which are currently limited from 9 am to 5 pm on workdays and closed on weekeneds, will be extended to 11 pm in those towns that have not declared an emergency situation.
Those places that have could also see an easing of the measures, so that cafes, restaurants and shopping malls will be open until 9 pm. However, if an facility has a garden, it will be able to stay open until 11 pm. A maximum of two people will be allowed to sit at one table, unless they are parents with minor children, or members of the same household.
The new opening hours should be in force from Friday, December 18.
According to the media, the changes will also cover the work of theaters, cinemas and museums, which will be able to stay open on weekends until 5 pm.
However, some media reports said that the proposal to extend opening hours is being considered, but that establishments will not be allowed to work quite until 11 pm.
PCR testing
All restrictive measures that have been in force so far are effective through Friday, December 18. After that, the Crisis HQ announced the holding of a new meeting - that which took place today - at which it will decide whether to introduce some additional measures or change the existing ones.
After the last meeting of the Crisis HQ, PCR testing was introduced for all foreign citizens entering Serbia starting on December 20, with tests not older than 48 hours. This is a measure that will most likely last until January 10. Citizens of Serbia, if they do not have a PCR test, must spend 10 days in home isolation, which ends once they do a PCR test.
The latest on the epidemic situation
Coronavirus was confirmed in 5,129 people in Serbia in the previous 24 hours, while 47 patients died during the same time, it was announced on Thursday afternoon.
17,460 people were tested, of which 29.38 percent were positive.
There were 353 patients on ventilators.
So far, a total of 2,101,389 people have been tested in Serbia, 287,730 of whom were positive, while the death toll from coronavirus in the country was at 2,529 on Thursday.
Video:
Gojkovic: I dont know if some will see their next party
(Telegraf.rs)
Telegraf.rs zadržava sva prava nad sadržajem. Za preuzimanje sadržaja pogledajte uputstva na stranici Uslovi korišćenja.