Exclusive! How Ronaldo was cool with Vlahovic after the match, what Red Star can do against Ibra...
The Serbian footballer speaks for Telegraf about his impressions after scoring a goal and his club's triumph over Juventus, one day after a victory of a career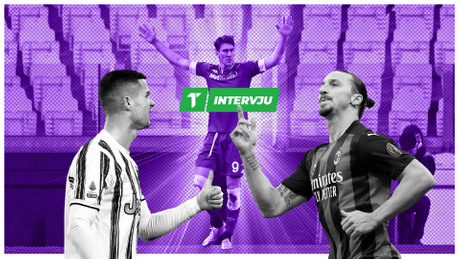 Dusan Vlahovic became the "king" of Florence overnight after a great game he played against Juventus! Fiorentina fans have been waiting for 12 years to celebrate in Turin in Serie A against their most hated rival, and the Serbian national squad player made a great contribution to that triumph by scoring the first goal in the 3-0 victory.
Since the match, Vlahovic hasn't been able to manage to reply to all the fans who are thanking him while "bombarding" him with messages on social media, but he took the time to describe the events  in a conversation with Telegraf the day after the great triumph where he scored one of the most important goals of his career.
We spoke with Vlahovic about his performance in 2020 and expectations for the next year, both at the club and the national team level, he revealed to us how Cristiano Ronaldo and Zlatan Ibrahimovic were respectful and cool with him after the matches he played against them, he talked about the strength of Milan and what Red Star can expect to achieve against the Rossoneri in their European clash in the spring, but also about a Partizan led by Aleksandar Stanojevic...
What's it like to score a goal for Juventus, and in such a great way?
"It is certainly a great feeling to score against Juventus, I cannot describe my feelings, I'm very happy, but the most important thing is that we won, which we wanted a lot and I hope we will continue like this."
You have already scored great goals, like the one in the (Serbian) Cup final for Partizan, you hit the back of Inter's net - but is it fair to say this is your favorite or the most important goal of your career so far?
"Yes, I have scored important goals, but I think that my favorite will always be the one in the Cup final for Partizan, this one, and the one against Inter are certainly right behind that goal."
What were the reactions of your fans and friends, how many messages did you receive after the goal and the victory?
"I received a lot of messages, I try to reply to everyone, if I don't reply to someone I apologize and I will do it as soon as possible, because I received a lot of messages, since Fiorentina fans literally live for the game against Juventus."
How important is this victory for Fiorentina, since its rivalry with Juventus is well known, and in addition, this is the first victory in Turin, in Serie A, in 12 years?
"This was very important for us, because we were close to the awkward zone (in the league table). This victory means a lot to us self-confidence and raising morale-wise, and I hope that we will continue like this, I think we have quality and we must continue like this, we are on the right path, but we must continue even stronger and be humble."
You celebrated in the locker room by raising three fingers (traditional Serbian salute), can you describe that gesture and what was the celebration like?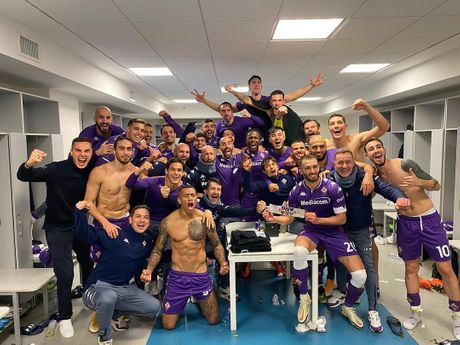 "The celebration with three fingers... we scored three goals, and I am also a Serb, which I am proud of, so it was like that because of both these things."
Does it ever happen that Bleki (Nikola Milenkovic, another Serb playing for Fiorentina) and you play some Serbian music in the locker room while celebrating?
"We don't like to impose ourselves much in the locker room. Usually, the music is played by Latin Americans or Italians, it's OK by us, we're used to it, it's important that the atmosphere is good and that we win."
How much do the words of (Fiorentina coach) Cesare Prandelli, who praised you after the match with Juventus, mean to you?
"It means a lot to me, Prandelli is the coach who 'pulled" me out, he decided to try with me and I hope that I will repay him the right way, I have to work even harder, listen to advice and to my elders, be even more humble and I hope to continue like this. Everything is already forgotten tomorrow, on the third (of January) the game against Bologna awaits us, which we should win, I would like to bring as many victories as possible to our coach."
Federico Chiesa was one of your best friends, his transfer to Juvetus was considered a betrayal by the fans, what was it like to play against him now?
"It was very strange to play against him, because Chiesa is a great guy, it was strange to see him as an opponent, that's life, sometimes our paths cross, sometimes not, but I'm sure glad I met a guy like him."
This was your first game against Cristiano Ronaldo in your career and an instant big win. What did he seem like on the pitch and did you have a chance to speak to him?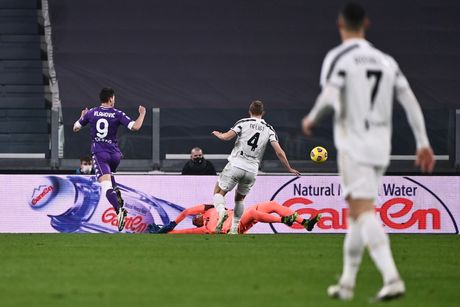 "There is not much to say about Cristiano Ronaldo, I think we know everything, one of the best players in history, it was really my boyhood dream to play against him and beat him, I still can't believe it and I'm not fully aware of what we've done, but we alrady have to turn to the next game and try to play the best we can. At the end of the game I asked him for his the jersey, he was angry, which is normal and he said he would give me the jersey when we go into the locker room, so that was that."
Was this also an introduction to show what awaits him in the clashes in the World Cup qualifiers (between Serbia and Portugal) in early spring?
"I wouldn't want to threaten Cristiano Ronaldo, I know that we will give 101 percent for our country and that we will play the qualifications as well as we can and qualify for the World Cup, which is a dream for all of us."
We will do our best to qualify for the World Cup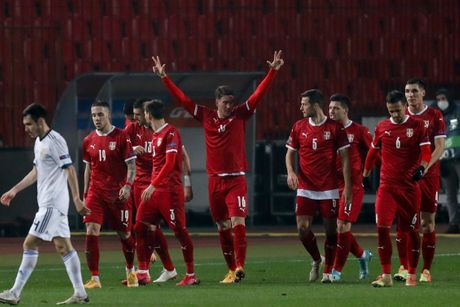 You are settled in Fiorentina's starting lineup, you scored important goals, you made your debut for Serbia and scored your first goal in the national jersey. Do you think 2020 was a good year for you?
"This 2020 could have been better, I didn't play well when the championship resumed after being in quarantine and having coronavirus, the beginning of the season was not great, if I could turn back time I would go back to correct it, but there's nothing to regret, we need to look ahead and I think everything will fall into place. But I could say that I am partially satisfied."
What do you expect as the season continues and in 2021, since you are in great form at the end of the year scoring three times, one after another?
"I have set some goals for myself, hard work, sacrifice and progress every day. I would like to end 2021 as a much better player than I was at the beginning of the year. There is desire for progress, a hunger for goals and success, and I think that will be the case."
There's often information that you are followed by big clubs, what are your thoughts about your future career?
"I don't know anything about that, I don't deal with it, I'm just thinking about playing as well as possible and progressing, I'm in Fiorentina and that is my only goal."
Red Star has a chance against Milan, I hope Partizan takes the (Serbian) title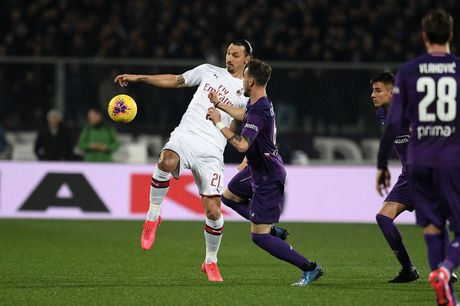 It is known that Zlatan Ibrahimovic is your idol, you had the opportunity to play against him last season but he was not in the lineup this season. Did you have a chance to talk, what impression did it leave on you?
"I played against Zlatan, the score was 1-1 then, now due to injury he didn't play this last game that we lost. We exchanged jerseys after the game in February, he really left a strong impression on me, a great champion, a great player and it is no coincidence that they are at the top of the table with him. They have a great coach, great players and he really left a strong impression on me."
Does Red Star have a chance against this Milan in the Europa League in the spring?
"Of course. Every game starts with a 0-0 and I think everyone has a chance against everyone. Of course, why not."
Do you follow the events in Partizan, do you believe that the club can fight for the title with Aleksandar Stanojevic on the bench?
"I do, I watch the matches, Partizan started to play very well, there is continuity, I hope and support them with all my heart to win the title. One should always set the biggest goals and I wish them all the best from the bottom of my heart."
Video:
Vlahovic speaks from quarantine and shares his experience with coronavirus
(Dusan Ustevic)
Telegraf.rs zadržava sva prava nad sadržajem. Za preuzimanje sadržaja pogledajte uputstva na stranici Uslovi korišćenja.