Planes flying to Europe again from Morava Airport in Ladjevci: Seasonal flights to Thessaloniki
If the epidemic situation allows, flights from Kraljevo to the capital of Austria will be reestablished starting in October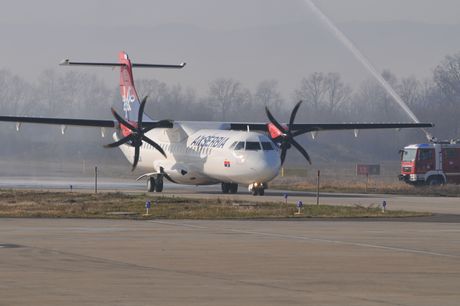 Air Serbia will establish seasonal flights between Kraljevo and Thessaloniki, departing from the Morava Airport in Ladjevci. These flights will be taking place from July 13 until August 24.
"Flights will be organized once a week, on Tuesdays. Departure from the airport in Ladjevci will be at 8 am, and landing from Thessaloniki at 11:20 am. Tickets can be purchased on the Air Serbia website. The starting package costs around 40 euros for a one way ticket," Director of the Morava Airport Dragan Bugrinovic told RINA.
Due to the Covid epidemic and reduced interest in previous months, flights to Vienna have been suspended, and currently only emergency traffic is taking place at the airport in Ladjevci.
"We hope for normalization in all segments of life, including air traffic. Announced flights have been realized during the epidemic, and the airport Morava was used several times to transport Covid patients," Bugrinovic added.
According to unofficial announcements, if the epidemic situation allows, flights from Kraljevo to the capital of Austria will be reestablished starting in October.
Video:
You didnt know this: Shocking location and idea of ​​the first flight from an airport in the Kingdom of Yugoslavia
(Telegraf Biznis)