Lawyer Aleksic: We will also sue NATO for using cluster bombs against Nis, they are banned
During the bombing of Nis, civilian buildings, markets, hospitals were all targeted...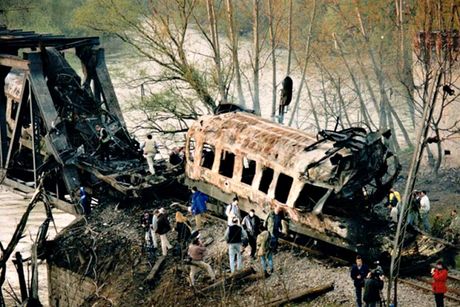 Apart from depleted uranium, Serbia was in 1999 bombed with cluster bombs, Nis-based lawyer Srdjan Aleksic told Tanjug and announced that his office would sue NATO for the use of cluster bombs because they are prohibited by international law.
Aleksic's law firm, in cooperation with Italian lawyer Angelo Fiore Tartagilia, filed the first lawsuit against NATO in January seeking compensation on behalf of a cancer patient who got sick as a result of the bombing of Serbia with depleted uranium in 1999, and a number of other lawsuits are planned on the same basis.
When it comes to cluster bombs, Aleksic explained for Tanjug that during the bombing of Nis, civilian facilities, markets, hospitals and other sites were targeted, when about 20 people got killed and as many wounded.
"We will also sue them because the use of cluster bombs is prohibited by international law. We will sue them for the material damage caused to civilian facilities, as well as to individuals and legal entities," the lawyer specified.
He believes that there is a right to compensation for all the damage caused during the 1999 bombing.
"The law gives us that right, but also international conventions, primarily the Convention on Human Rights, because in this way the right to life of citizens of the Republic of Serbia was violated. Nobody can waiver that right on behalf of anybody, and everyone who feels that his right has been violated, has the opportunity to initiate civil proceedings for compensation through a lawsuit," Aleksic stressed.
His colleague Tartagilia, who enrolled in the Nis Bar Association for the sake of filing the first lawsuit against NATO before the Belgrade Higher Court, is currently in Belgrade, and yesterday he met with lawyer Goran Petronijevic, a former District Court judge, in the Serbian capital's Russian House. Petronijevic in 2000 handed down a guilty verdict against NATO leaders.
That verdict was later canceled, and then, by the decision of the state, the indictment was withdrawn as well, so the procedure was suspended. However, due to the abundance of evidence and the established facts, it will be used as evidence in the new case against NATO.
During the meeting, Tartagilia, among other things, said that the state of Serbia should be included in the whole process against NATO and see some positive outcomes from that.
"The Serbian state will thus show its stance, integrity and care for its citizens. By defending its citizens' interests, by filing these lawsuits against NATO, the Serbian state shows strength and puts itself on the same level with NATO. It can't lose anything if it stands behind all this," Tartagilia believes.
Speaking about the lawsuits against NATO, he said that it is a matter of solidarity and responsibility and that, if NATO's guilt is proven, it would make it possible to compensate the people who suffered damage during the NATO bombing.
Recalling that NATO is not only made up of the US but also of European countries, he believes that Europe should also bear responsibility for what happened in Kosovo and Metohija.
"The consequences that have been inflicted are so great that the damage that occurred must be treated in various ways. It will be, in a way, economic assistance to the Serbian people, who lost a lot in the economic sense due to that war," Tartagilia concluded.
Petronijevic stressed that it was determined during the process against NATO that the material damage alone caused by the bombing amounted to 120 billion dollars, i.e., not taking into consideration non-material damage related to human suffering, deaths, including from cancer...
He heads the recently formed Center for Renewal of International Law (COMP), which will provide assistance and support to Aleksic and Tartagilia when it comes to the lawsuits against NATO.
The Center for Renewal of International Law was established on the initiative of judges, lawyers, professors and workers in the field of international law, and is of international nature.
(Telegraf.rs)