First Air Montenegro flight from Podgorica took place this morning: The plane lands in Belgrade
Minister of Economic Development Jakov Milatovic also arrived in our capital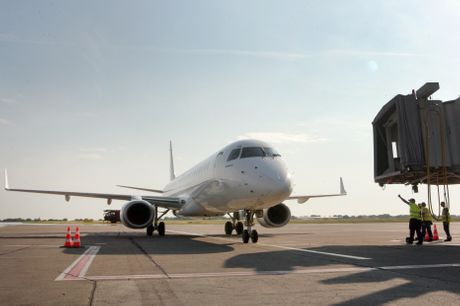 The first flight was marked today at Belgrade's Nikola Tesla Airport with a ceremonial welcome of the Air Montenegro plane, which arrived from Podgorica at 08:45 am.
It marked the beginning of flight operations of the new Montenegrin national airline to Belgrade.
Minister of Economic Development Jakov Milatovic arrived in Belgrade from Podgorica on the first flight of the new national carrier, ToMontenegro.
After Montenegro Airlines stopped flying at the end of last year, the Government of Montenegro decided to launch a new company.
In the meantime, bankruptcy procedure was started at Montenegro Airlines. Air Montenegro is the new name of the brand under which ToMontenegro's planes fly.
"The brand name is a verbal statement whose role is basic identification of a brand by the public and it often differs from the name of the company, the holder of the brand," ToMontenegro said in April. They added that more than 500 proposals for a new name and logo had arrived to the new airline.
Video:
One night on it is worth the average salary in Serbia: The first floating resort in the world opens
(Telegraf Biznis)