Proceedings against former PM Dusko Markovic suspended: Court claims he didn't insult Serb people
The Higher Court did not find that the former prime minister gravely insulted the Serb people, as stated in the accusations made by the fugitive businessman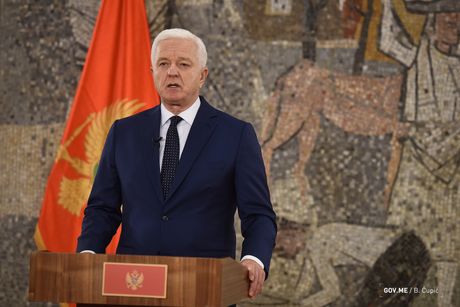 The Higher Court in Podgorica has suspended criminal proceedings against former Montenegrin Prime Minister Dusko Markovic for criminal acts of inciting racial, religious and national hatred and violating freedom of choice, thus ruling on a private complaint made by fugitive businessman Dusko Knezevic, the Higher Court told the daily Pobjeda.
As stated, the criminal proceedings against Markovic have been suspended because the court found that the prime minister's speech on August 26, 2020, did not contain elements of the criminal acts listed in Dusko Knezevic's private complaint.
The Higher Court did not find that the former prime minister gravely insulted the Serb people, as stated in the accusations made by the fugitive businessman, reports Tanjug.
Knezevic and his lawyers believe that Markovic made insulting and threatening statements in his speech on August 26 last year, saying, "We have the same political and national ideology as before, which gives primacy to one nation."
As Markovic put it, "That can only be if there is no Montenegro; if it is someone else's Montenegro; security institutions know what they are doing; they will respond fiercely on August 30; let them (Serbs) regulate their country in such a way." Knezevic and his lawyers assessed that this was the former prime minister expressing that he wanted members of the Serb nation to leave Montenegro.
However, the Higher Court did not agree with the statement of lawyer Zdravko Djukanovic that this is a qualified form of the criminal act, because Markovic said it while serving as Montenegro's prime minister.
The Higher Court did not agree with Djukanovic's argument that Markovic also committed the criminal offense of violation of the freedom of choice when voting when he said, "We have a simple choice on August 30, elections are only a formalization or an administrative procedure after the votes have been counted."
The judges of the Higher Court did not support the position presented by the lawyer for the fugitive businessman that Markovic, as the prime minister of Montenegro, influenced citizens to vote for the DPS party-led list, thus trying to prejudge the outcome of the elections.
(Telegraf.rs)
Telegraf.rs zadržava sva prava nad sadržajem. Za preuzimanje sadržaja pogledajte uputstva na stranici Uslovi korišćenja.