2 deaths in Central Prison this morning: A detainee close to America Clan and a guard found dead
As we have learned unofficially, the prisoner was a member of the notorious America Clan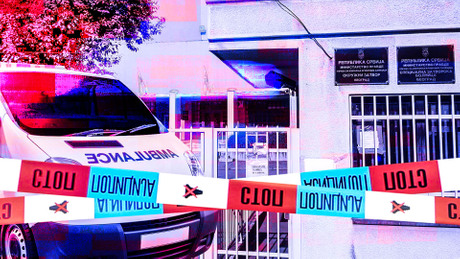 A detainee and a policeman were found dead this morning in the Central Prison in Belgrade, Telegraf.rs has learned. According to unofficial information at our disposal, this is allegedly about prisoner Z.S. (44), who was a member of the America Clan, and a prison guard.
"A member of the security service was found early this morning without any vital signs at his workplace, in the office. The doctors from the special prison hospital reacted immediately, tried resuscitation, used an ECG, until the arrival of an ambulance and they continued with resuscitation, but both attempts were unsuccessful," Telegraf.rs was told by the Administration for Execution of Criminal Sanctions.
"In a completely different part of the District Prison, in a room where the detainees are held, detainee S.Z. was found with no signs of life in his bed at around 7 am. The same moment, the doctors started resuscitation, an ECG, and an ambulance was called, which came quickly and continued with resuscitation attempts, but unfortunately they was unsuccessful. The Prosecutor's Office has been informed, and the police have yet to conduct an investigation, while an autopsy will most likely be performed," the Administration for Execution of Criminal Sanctions added.
As we have learned unofficially, it is assumed that the cause of death in both cases was a heart attack.
Video:
Meat grinder found in Belivuks house, DNA traces from various victims confirmed
(Telegraf.rs)
Pošaljite nam Vaše snimke, fotografije i priče na broj telefona +381 64 8939257 (WhatsApp / Viber / Telegram).