"This is where Stefan was killed!" Karaburma still blocked, citizens say: You gave us no choice
The court on Wednesday refused to order L.G. to be kept in custody and he will be free pending the outcome of the legal proceedings, while the 9-year-old boy succumbed to his injuries yesterday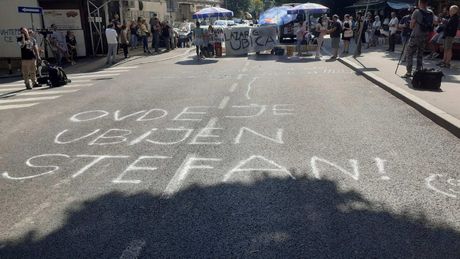 Marijane Gregoran Street in Belgrade's Karaburma neighborhood was once again blocked this morning by a peaceful protest of citizens who gathered last night at the pedestrian crossing where a 9-year-old boy, Stefan B., was hit when Lazar G., 38, drove his car into him, his younger brother L.B. (4) and their father on Sunday night, and then fled the scene. The boy died of his injuries yesterday.
Citizens gathered on the corner of Marijane Gregoran and Patrisa Lumumbe are demanding the arrest of the person who responsible for the hit-and-run.
Their message is that they will not go anywhere until the driver who mowed the boy down is arrested and convicted. They stress that this is where the word "Enough" begins in order to protect all citizens.
They launched a petition on the Facebook group Pravda za Stefana (Justice for Stefan) in order to review the court, the prosecutor's office and all state bodies responsible for releasing the driver.
The court on Wednesday refused to order L.G. to be kept in custody and he will be free pending the outcome of the legal proceedings.
The driver had fled the scene, while citizens say he will not disperse from the street until he is arrested.
Dozens of citizens gathered last night at the scene of the accident. They formed a chain holding hands, and thus blocked traffic in this part of the city. Mothers with babies in prams were also at the protest, as well as family members of the boy who could not hide their tears.
SUD PUSTIO UBICU DETETA (9) DA SE BRANI SA SLOBODE!

Vozac kome se krije identitet pokosio je na pesackom prelazu na Karaburmi decu od4i9godina!
Dete od9godina podleglo je povredama, a sud je pustio ubicu da se brani sa slobode!
Ko je ubica deteta, ko je sudija koji ga je pustio? pic.twitter.com/I7SEP50651

— Marko M. Dragoslavic (@DragoslavicM) July 22, 2021
The gathering started spontaneously around 6 pm.
"Your neighbor was killed here! Come on, neighbors, come out," echoed from a megaphone last night in Karaburma, as more and more citizens were gathering in order for no other child to be hurt at pedestrian crossings.
The man who drove the vehicle hid his car after the accident, and there are indications that he was under the influence of alcohol. However, these circumstances should be determined later by the court.
"Drawing from some previous practice, we can claim that these are two criminal acts - a serious act against traffic safety and failure to provide assistance. If the allegations that he hid the car are also true, there are elements of influencing unobstructed criminal proceedings," lawyer Ivan Simic told Telegraf.rs.
The First Basic Court in Belgrade on Wednesday refused to order custody for L.G. (38). The pre-trial judge banned him from leaving his place of residence while his driver's license has been revoked, court spokeswoman Bojana Stankovic said at the time. Both the defense and the prosecution have the right to appeal this decision. The prosecution said they would certainly appeal.
Earlier on Wednesday, the prosecution asked to keep L.G. in custody as a flight risk and in order to prevent him from repeating the crime in a short period of time, as well as to stop him from influencing witnesses, because he chose not to say anything in his defense.
Video:
A protest in Karaburma over the death of a boy at a pedestrian crossing
(Telegraf.rs)