Vucic: Gone are the days of pressuring free, independent states
Asked what he expects from today's meeting, he replied, "nothing"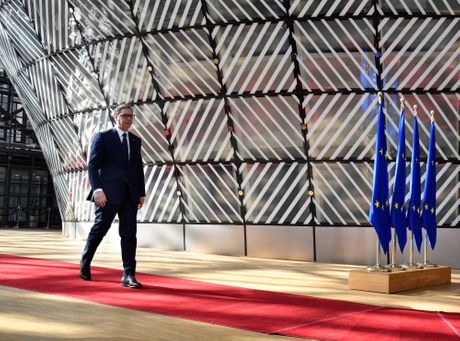 President of Serbia Aleksandar Vucic said today, after arriving at the EU Summit, that he had come to Brussels to talk with European friends about the future of Serbia and the region.
When asked what he expects from today's meeting, he replied, "nothing." And when asked whether he was afraid of coming to Brussels, as some claim, he said that the times when someone could blackmail free and independent states with pressure are over.
"We came here to friends. I believe in the European future of Serbia and the Western Balkans. We will fight together on that path, respecting ourselves and believing that together we can do a lot. That we are scared and that we are very small and some others are very big, leave that to someone else, these are stories for little kids," he said.
We want to rapidly develop friendly and brotherly relations. I believe that we will be together on the European and all other roads, Vucic stressed.
He said that he spoke with North Macedonian Prime Minister Dimitar Kovacevski this morning, and when asked what he thought about making the (EU accession) negotiation process bilateral, he stressed that this had been done to Serbia with Pristina, when it received Chapter 35.
"I cannot say that Kovacevski is happy. We will see what will happen," he added.
He pointed out that North Macedonia is a brotherly and friendly country for Serbia, and that everything that Skopje feels is like feeling it in Belgrade.
(Telegraf.rs)
Telegraf.rs zadržava sva prava nad sadržajem. Za preuzimanje sadržaja pogledajte uputstva na stranici Uslovi korišćenja.