Grenell: US leadership necessary in Belgrade-Pristina negotiations, they're falling apart, Kurti's not helpful
Former Trump Administration Special Envoy for the Dialogue Richard Grenell Says Albin Kurti acts like "Mr. No"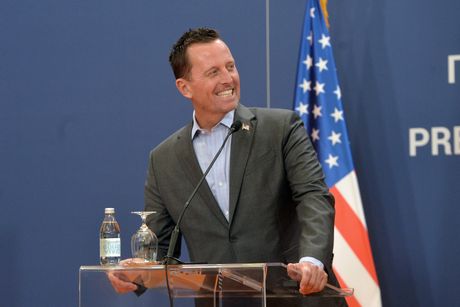 We see that the negotiations between Belgrade and Pristina are falling apart, because the (US) State Department is coordinating with the Europeans, and when you let them lead - you get a lot of talk and little action, the former special US envoy for the dialogue in the Trump administration, Richard Grenell, has told RTS.
He stressed that "American leadership" that is trusted by both sides is needed, that Albin Kurti rejects all ideas. and is not being helpful.
Asked about his take on the current talks between Belgrade and Pristina, he said that the entire show could probably be dedicated to that.
"I think we know Kurti is just not being helpful in this situation. I've negotiated with him and he's someone who's never really liked any idea. He's rejected every single idea that the Americans have offered. Now he's rejecting the Europeans' ideas. Even the Biden Administration had to criticize him. I think he is not serving his people. He is not helping this situation. We miss Thaci these days," Grenell said.
Asked what makes Kurti so strong that he can stand against everyone who is involved in the talks, the former US official said that he would not call that strength, and that Kurti is simply "Mr. No."
"He just says no, he always says no. If you go back to the ideas of Bill Clinton or Barack Obama, he has rejected every idea that the Americans have put forward. The American system is realizing it. Finally coming to the conclusion on both sides of the isle that Kurti is not being helpful to the Americans."
Grenell commented on the US role in the negotiations between Belgrade and Pristina when Donald Trump was president and now that Biden is in office.
"The opposite of 'America first' is 'consensus with the Europeans'. We believed in the Trump Administration that you needed America's leadership. You needed to step forward, from the White House, from the administration. That's why when I was appointed I was a presidential envoy, not a State Department envoy," Grenell said, adding:
"I was an envoy coming from President Trump. I could walk into the Oval Office and get some ideas. I could move forward and say, 'two parties want to do this'. We don't have that right now with President Biden. He's allowed the State Department to coordinate with the Europeans, and I believe that when you put the Europeans in charge, you're going to get a lot of talk, you're not going to get a lot of action. We're seeing that now. We're seeing discussions fall apart. You need American leadership, American leaders to step up and be trusted by both sides."
(Telegraf.rs)
Pošaljite nam Vaše snimke, fotografije i priče na broj telefona +381 64 8939257 (WhatsApp / Viber / Telegram).