Knight of Serbian painting Vladimir Velickovic passes away
He spent most of his career in France, where he was honored with top French cultural honors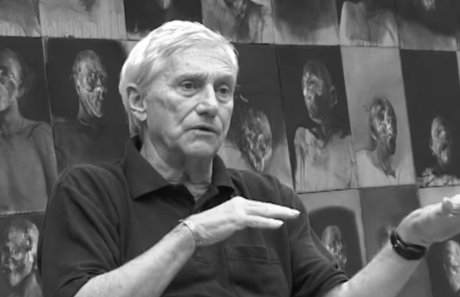 One of the most eminent Serbian painters, Vladimir Velickovic, has passed away at the age of 84.
Vladimir Velickovic spent most of his career in France where he was honored with top French cultural honors, the Ordre des Arts et des Lettres and the Legion of Honor.
When he was only 16, Velickovic applied for a competition organized by the Cvjeta Zuzoric pavilion. The competition was geared towards young established painters, so in order to avoid being rejected, he decided not to mention how old he was.
Velickovic ended up being one of the best noted participants amid a strong competition from other artists. At the urging of his father, who told him that "a craft is always in the hand, while art is often in the bush," he graduated from the Faculty of Architecture in Belgrade. Velickovic later said that studying architecture was the only compromise he had ever made in his life.
From 1962 to 1963 he was an associate of the Krsto Hegedusic's master workshop in Zagreb. He moved to Paris in 1966 where he was appointed as a professor at the Ecole Nationale Superieure des Beaux-Arts in Paris in 1983, remaining in that position until 2000. He was elected as a member of the Serbian Academy of Sciences and Arts (SANU) in 1985.
Velickovic was awarded the highest French recognition in the field of culture and arts, the Ordre des Arts et des Lettres, and the Legion of Honor. He was organizing exhibitions since 1951 and exhibited in a number of countries in Europe and America.
Velickovic was selected on December 7, 2005 as a member of the French Academie des Beaux Arts in the Department of Painting. He was one of ten academics in this department, in the position number 7 which has a history going back two centuries. He was the first Serb member of this Academy, while in the related French Academy of Sciences academician Ivan Djaja was elected as a corresponding member in 1956.
In April 2007, Velickovic was honored with the French Legion of Honor. In May 2013 he had an exhibition at the SANU Gallery, the same where also exhibited in 2002. The 2002 exhibition's motif were ravens on the ground, while in 2013 the ravens were taking flight.
At the height of his career, Vladimir Velickovic's paintings sold for up to 50,000 euros a piece.
Yet this great painter did not forget Belgrade and the burden that stood in his way on the path of art. To help young painters, he founded the Vladimir Velickovic Foundation for Drawing, which awards prizes to best young artists in the field of fine arts.
(Telegraf.rs)
Telegraf.rs zadržava sva prava nad sadržajem. Za preuzimanje sadržaja pogledajte uputstva na stranici Uslovi korišćenja.