Orban's unannounced visit to Serbia: Vucic meets with Hungarian prime minister on a Belgrade river
"With a great friend of Serbia Viktor Orban we're discovering the beauties of Belgrade from the river" - this has been posted on the official Instagram profile of the president of Serbia, "buducnostsrbijeav," along with a photo of the two statesmen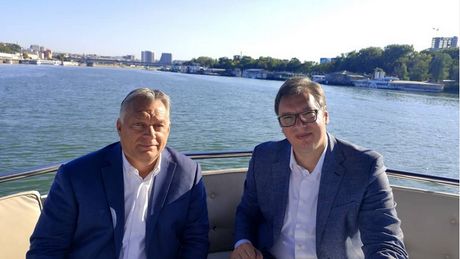 Foto: Predsedništvo Srbije
Hungarian Prime Minister Viktor Orban has arrived on an unannounced visit to Belgrade, where he met with Serbian President Aleksandar Vucic.
"With a great friend of Serbia Viktor Orban we're discovering the beauties of Belgrade from the river," it has been posted on the official Instagram profile of the president of Serbia, "buducnostsrbijeav," along with a photo of the two statesmen.
We recall that Vucic was in Budapest in early September, where he participated, among other things, in the 3rd Demographic Summit.
(Telegraf.rs)