Red Star fan's Porsche blown up in Belgrade; 2 years ago he shot Vavic, a Partizan supporter
Neighbors of Lazar Vukicevic, whose car was destroyed in an explosion in Belgrade's central municipality of Vracar, say they know him as a good young man, but that he later joined suspicious circles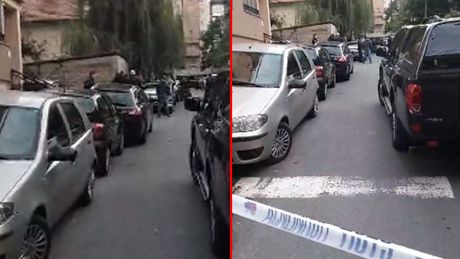 Printskrin: informer.rs
While investigative authorities are working to shed light on the explosion in Vracar, Belgrade, when a hand grenade was thrown at a Porsche owned by Miodrag Vukicevic (58), neighbors are commenting on the incident. According to initial information from the investigation, most likely Miodrag Vukicevic was not the target of the attack. The hand grenade is suspected to have been meant for his son Lazar, who is known to the Serbian police and judicial authorities, daily Novosti reports.
Neighbors say Miodrag is a good man, who once owned several restaurants.
"He owned Has-mas, Bucko, and never had any problems with the law. Although the Porsche is registered to him, the car was driven by Lazar who lives with his parents in a house in Rijecka Street. He never created any problems in the neighborhood, we know him as a good boy. But he later got into suspicious circles, got into fights, hooting and who knows what else he was doing. We don't know what exactly he is involved in, but obviously this is a warning to him," the neighbors say.
They say they are shocked that something like this happened in broad daylight, when this part of Vracar was extremely busy.
"Lucky that no one was hurt. It's very busy here. There are primary and secondary schools, there are always children in the streets. Also, there are many shops, cafes and other facilities. And the explosion was so strong that our windows cracked, and it still rings in my ears. Several cars have also been damaged," says one of the residents of Rijecka Street. Several minutes after the explosion, Miodrag Vukicevic, the owner of the Porsche, called the police. Numerous patrols came out on the scene. Firefighters put out the flames that swallowed the vehicle, and there were also members of the bomb squad of the Serbian MUP with dogs. Access to Rijekcka and nearby streets was blocked for several hours while the scene was investigated.
Two years ago, after a brief altercation and a fight in the club Kasina in downtown Belgrade, Lazar Vukicevic and Nemanja Arsenic shot at Milos Nikolic and Nikola Vavic. Nikola, who was wounded in the leg on that occasion, is one of Partizan's most prominent supporters. His and Aleksandar's youngest brother Djura is in the same circles. All three Vavics have criminal records and have been prosecuted for various offenses several times.
Lazar Vukicevic, suspected of being the target of the attack, was not at home on Monday after the explosion. According to Novosti, unofficially, friends from the neighborhood told him what had happened shortly after the explosion.
Video: Luka Bojovic's clan member blown up in Autokomanda
(Telegraf.rs/Vecernje Novosti)