Crime comedy about Red Star and Partizan: Watch the latest trailer for the movie "Ekipa"
Are the mobsters stronger than the derby?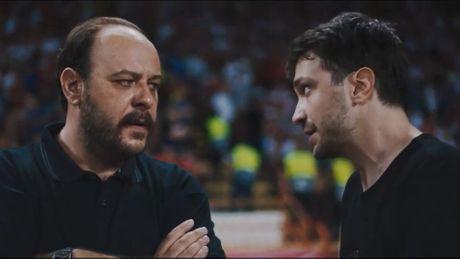 Insert iz filma "Ekipa" / Foto: Printskrin/YouTube/MegaComFilm
Two weeks before the premiere of "Ekipa" ("The Crew") the second trailer has arrived. This movie brought together a cast of Serbian actors, including, among others, Srdjan Zika Todorovic, Dragan Jovanovic, Andrija Milosevic, Ljubomir Bandovic and Sergej Trifunovic.
"Ekipa" is a movie about that most important thing of all the unimportant things:  football; about Red Star, Partizan, the derby in the capital, but also about everything that always makes football so much more than just a sport.
What does a derby day look like when Partizan's biggest hope, one who is expected to give the most on the pitch, must pay back money to a mobster? Will a Red Star fan save Partizan's footballer, will a woman finally understand why football is so important, will the mobster be tricked? The new trailer hints at the answers to these questions.
Partizan's ace, football player Zdravko Stevanovic, portrayed by Rade Cosic, is at the center of the film's story. The actor found his motivation in his great love of football, and he himself in the past trained at Partizan. The director is Marko Sopic, also a big fan of football and of the legendary, late Partizan great Dragan Mance.
After the derby, Zdravko (Rade Cosic), Partizan's star, Klupa ("Bench") (Andrija Milosevic), his first cousin - who is also a fan of Red Star - and Stefka (Lazar Djukic), a good childhood friend, come across an Italian woman (Ivana Dudic), the woman of everyone's life. After a crazy evening, they leave to pay back the debt to Skare Lovator (Dragan Jovanovic), who has been trying to sign a contract with Zdravko for years. Since Zdravko refuses to cooperate, this creates a lot of problems for his crew of friends, as they must find the money quickly in order to get rid of the famous conman Deki BMW (Milos Timotijevic).
The film crew also includes rapper Djus, former Red Star player Perica Ognjenovic, Nikola Ristanovski, Ljiljana Stjepanovic, and Andjela Jovanovic.
The premiere is scheduled for October 23 in the Sava Center, starting at 8:30 pm. Tickets are on sale at the Sava Center box office and in all ticket.rs outlets.
After the Belgrade premiere, the movie will be screened in cinemas across Serbia.
Watch the trailer:
(Telegraf.rs)